Remember
this
? And Smacks was one of the haul item that I got some time back ago.
This pic was taken from their
website
.
And from the whole bunch of colors, I got this...
Plum Crazy~
This pic doesn't really help much, but after I saw swatches from TiffanyD, I picked this color coz it's closer to my dark sausage lips
Here's how it looks like...
*I used this pic coz it looks nicer, and not because I'm going to compare with MAC
*
Smacks.. the name sounds delicious.. smacking lips, yum yum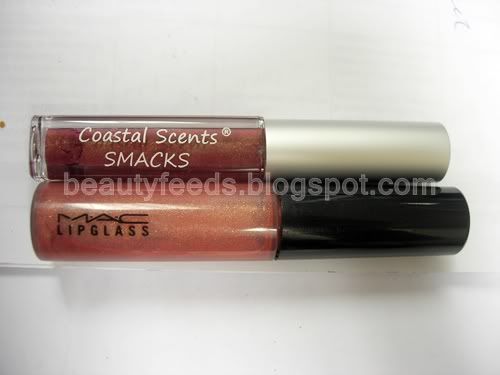 I placed my MAC's lipglass here because I find this two comparable with their sizes. Length are almost the same, but in terms of the glosses, Coastal scents's Smacks are much lesser than MAC's lipglass.
Plum Plum Crazy :D The name is so cute!
Don't the color looked pweeetty?
The brush tip.
Brush tip with the color...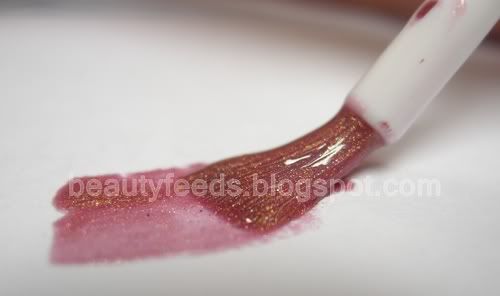 I don't know if this is my preference, but I think this color is so wild and berry.. like my old nick - Wildberry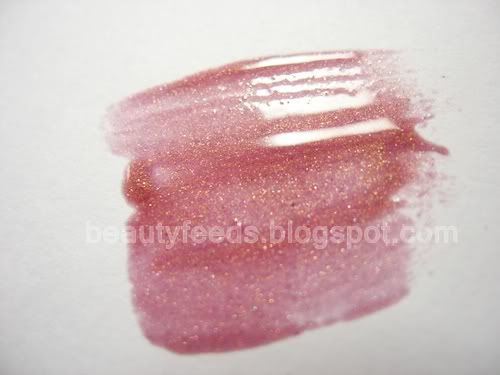 or maybe blackcurrent or ribena color. :P See the shimmers ? Nice nice nice!
On my thicky lips.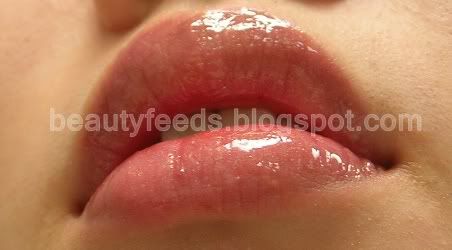 Smooth n' shiny right? And it does feel that way!
Ok lah, I put my face photo if this is not enough, but please excuse the nerdy nerdy me as usual.
The Product:
1.5grams/.053oz
(1.5grams even lesser than MAC's LE version of lipglass!!)
Made in:
China
My thoughts about it:
I like this more than my
NYX round lipglosses
. Let's not compare with MAC's lipglasses first, shall we? I like this is because the lipgloss stays on much longer than
NYX round lipglosses
. I think it is because of its thick and a little sticky consistency of this gloss. Because it is not as runny as
NYX round lipglosses
, I can control the way I applied it on my lips (I normally apply out of the lip lines =.= this is not on purpose you know, some more I have to wipe it off with a tissue/cotton bud). I'm not sure if all the glosses from Coastal Scents are the same or not, I feel that this gloss have the "shinny gloss" effect to my lips, like those car wax, and it sticks on to the lips like it's being laminated onto the skin (okay, I'm not good in describing okay
).
Cons?
Maybe this is expensive as
NYX round lipglosses
is $2 for 2.5ml. Also, it has a very very faint plasticky waxy smell (if you really smell it).
Other than that, I dislike the brush tip lah. Here's why...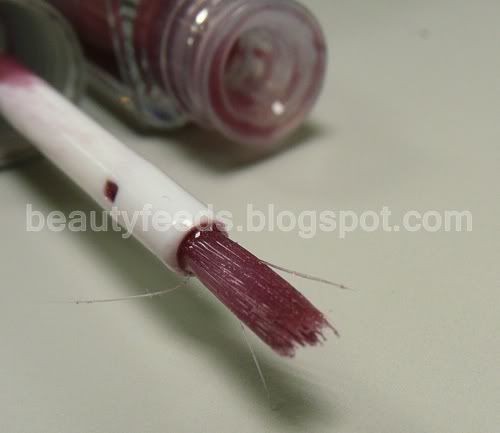 Seeeeee!!!! I like the NYX brush tip better! This frays like crazy~ argh!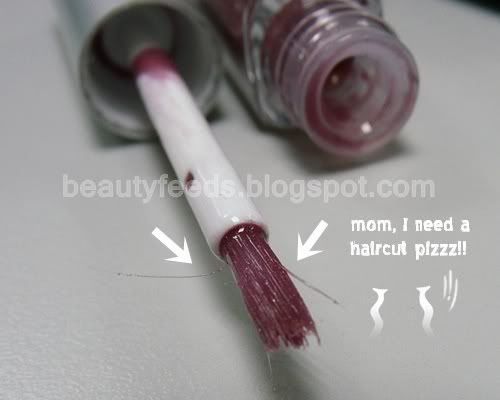 Overall, even the brush does fail miserably, but I still like the color of this!
Ingredients from the website:
Polyisobutene, Tridecyl Trimellitate, Octyldodecanol, Mineral Oil, Ozokerite, Microcrystaline Wax, Tocopherol, Propylparaben, May Contain: Titanium Dioxide, Iron Oxides, Manganese Violet, D&C red #6, D&C red #6 Ba lake, D&C red #7 Ca Lake, D&C Red #21 Al Lake, D&C Red # 27 AL Lake, D&C Red # 33 Al Lake, FD&C Red # 40 Al Lake, FD&C Yellow #5 Al Lake, FD&C Yellow #6 Al Lake, FD&C Blue #1 Al Lake
So have you tried any lip Smacks yet? Do let me know if you have!