*pic from cherryculture.com*
Before I start, apologized for the long MIA. Reason being is because I'm too lazy, and when I "tried" to review something, I end up changing the layout of my blog. -_-" Until it became weird-looking thing. *sighz*
Anyway, since I'm back, these were my haul of NYX round lipglosses from
Nonpareilboutique
:D
Haven't tried all of these yet, was thinking not to coz I end up tossing them aside. -_-
Here's the flavour that I've tested - Ballerina Pink!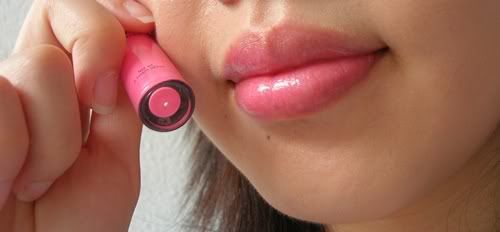 I think this color suits fair ladies but doesn't seem okay with me coz I have thick lips :X
The reason being why I have chosen this was because of the name -
Ballerina
Pink. I'm a sucka for ballet or dancing term items, such as Dance Tee, bags with Pointe shoes pictures... argh... irrisistable! I even had one MAC lipglass called En Pointe. -_- hence my nickname in some forums are
enpointe
. :P
The color from the gloss really looks the same when swatched. Too bad the website's swatches are lousy. :P
*made in Taiwan some more*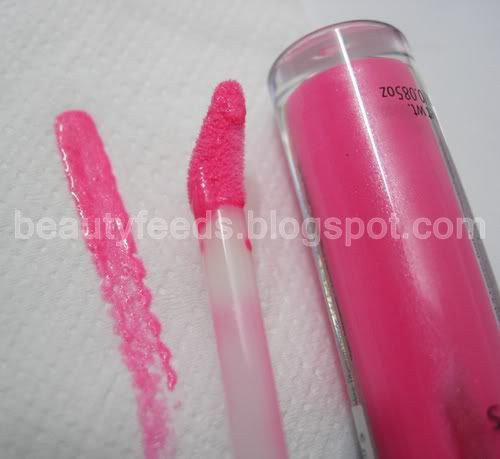 See the applicator? Doe-foot shaped. Glides on smoothly on the lips like nobody's business. :P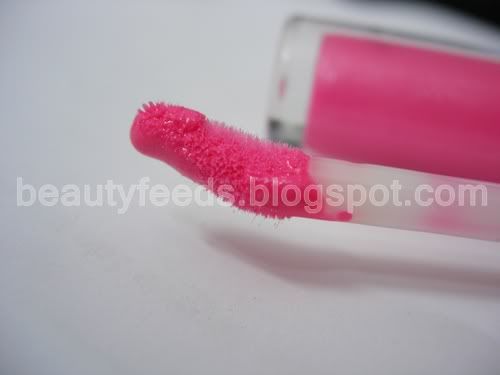 Here's a clearer picture of the swatch. This color contains little shimmers to it. Very pretty.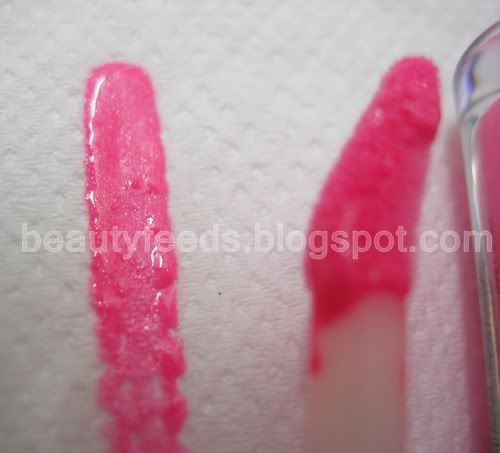 The Product:
2.5ml / 0.085oz
(sounds little but it sure contains quite a bit)
Price that I bought this:
$2
(stated from the
Nonpareil Boutique
)
My thoughts for this product:
I like it. If you hate those uber stickiness from MAC lipglasses like me, then you'll love this one. It feels "wet" on the lips and not sticky on the lips. Glides on smoothly like a charm! This lipgloss does not gives shine to the lips (or I called them "wet look"), so ...don't expect them to look uber glossy on the lips!
Cons?
Nil so far. I know some bloggers do comment about the lemon-bleach scent kind of thing but to me, it doesn't bother me much. It does has a lemony smell but toleratable and it goes off quite quickly too. Other than that, no complains since it's affordable too! ;)
Overall, I'll buy them if I "ever" do run out of them (which I think it'll be many monthsssss from now) :)
The ingredients...

By the way, I got them by selecting their cheapest shipping method -
USPS 1st Class mail Int'l
that is $9.99 in case you are wondering. They wouldn't require any signature but it takes roughly about 2 weeks to arrive to your doorstep (in Malaysia) after posting. HTHs!
Til next time :D