**Warning: This is a seriously backdated post of my ELF haul in May'09 **
Yeah! Spot on! My ELF brushes, again
(I bought ELF again 2 weeks later after my first haul)
! Nothing but brushes. I'm a "kiasu-er", I bought these and they are all my backups except for my complexion brush.
Here's my previous haul about them >>
ELF Haul 1
I know this is nothing much to shout about as I believed you may see many bloggers had already talk about these cheap + super affordable brushes. I should be talking about Christmas and Holiday collections but still I'm sticking with this ELF ELF ELF... **piff**
(I don't care anyway, huhu! vain, I know
)
I got this from a spreer in
LYN
but I seriously don't remember who is the person who help me with it. *soweee* I can't remember historical hauls coz I only have 80GB memory in my head..
ahh.. watever!
hahaha :)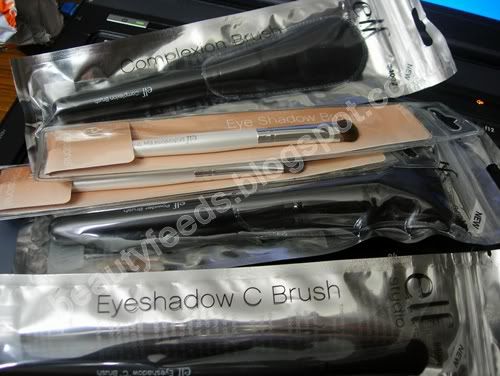 See how ELF packaged their brushes? Quite professional looking right? If you look at other brands, they only came with some thin plastic cover..
Let's talk about the normal line of brushes that I got - ELF eyeshadow brush.
This eyeshadow brush came with a hard plastic cover without a brush guard (unlike those studio brushes). But it's only $1, so WTH (LOL!).
They even explained what this brush does behind the cover!
The real thing!

With silver-engraved wordings.

Size comparison.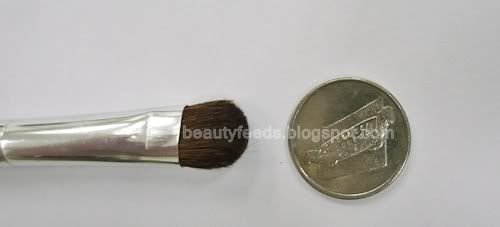 Side view.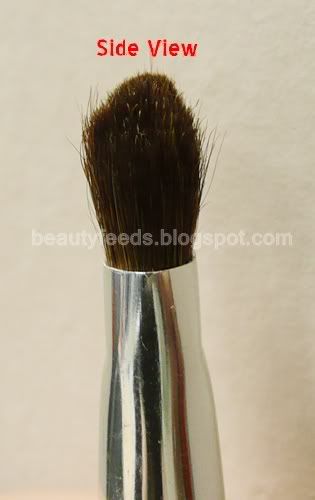 Front view.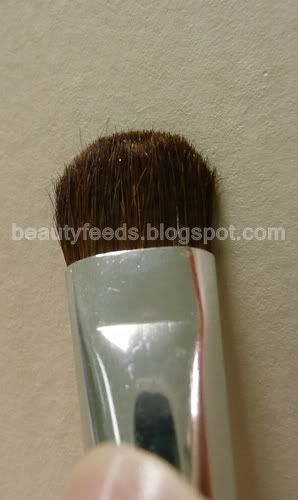 See how dense this is!
Believed it or not, this pick up any eyeshadow (powder eyeshadow,please!) like a charm.
The Product:
ELF Eye Shadow Brush
From ELF website:
Specially sheered brush tip absorbs the perfect amount of eye shadow and provides long lasting color saturation. The comfort curved brush contours the eye with natural gliding strokes for easy and accurate eye shadow application.

All e.l.f. professional makeup brushes have been designed and tested by professional makeup artist Scott Vincent Borba. Each brush has been ergonomically designed to fit perfectly into your hand and facilitate a flawless finish with every application.
Made in:
China
My thoughts about it:
I don't really like it.
I know many bloggers raved and raved about this brush, but for me, I feel that it is too dense and it sort-of "scratching" my eyelids when I apply the eyeshadows with this. This brush is not synthetic and I have no idea what it is made of as well.
However, it does pick up the right amount of eyeshadows and if you just pat it onto your lids, it does really do a great job. But blending wise, I don't fancy them.
Cons?
Too scratchy. I think the synthetic version (Studio line Eyeshadow "C" brush) might not be so scratchy as this one but I don't think I can comment further since I haven't use them yet. Also, the bristles kinda frays a little bit after a few uses as well.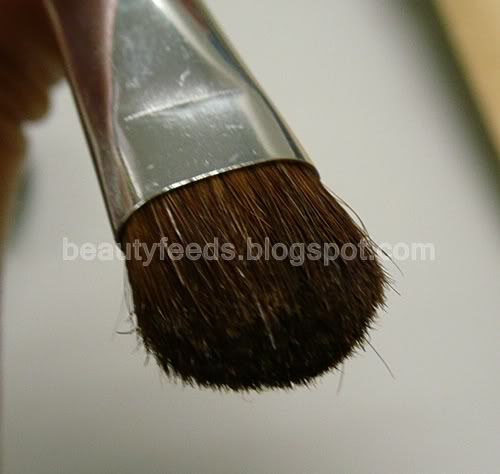 But seriously, $1 for this brush and I cannot be complaining that much!!
Sorry ELF
.
Overall, it does a good job on applying eyeshadows. But for blending, it's another thing already. :)
xxxxx
Next up, the
ELF Studio Line Brushes - Complexion Brush
.
I really like ELF's packaging of these brushes. These brushes came with a plastic kind of brush guard.
I have to confess, this is my FAVORITE brush for now.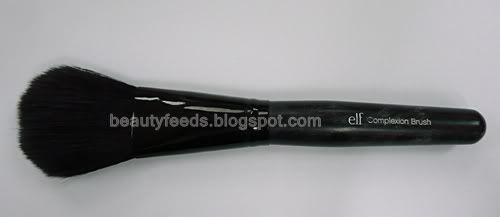 I used to rave and rave about my ELF Studio powder brush, but when I finally got the idea of using this complexion brush, I immediately
"jump ship"
(as in changing my preference, LOL!).
See how softttttttt this is! After many months of using them, it is still so soft and they never shed nor bleed like my other brushes!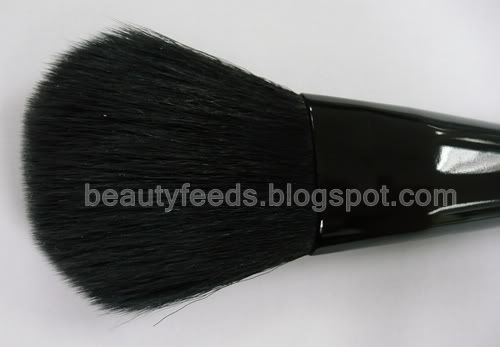 I straight away give5 honorable stars for the complexion brush!
he Product:
ELF Studio Complexion Brush
Made in:
China
From the website:
This new anti bacterial, synthetic haired Taklon brush is softer and more absorbent and can be used with wet or dry products. Be a professional makeup artist and create a flawless look with this e.l.f. studio brush!
-Creates an even and natural finish
-Expertly sweeps all types of powders across the entire face and sculpts features beautifully
-Use with pressed, loose, or translucent powders, blush or bronzer
*Vegan Friendly



Dip brush into powder and tap off excess. Apply all over face or wherever needed for additional coverage or color.
My thoughts about it:
Like I said, I love it! Initially, I didn't know what to do with it. I tried using this for my blusher and highlighter, and the way this brush work with them are horrible
(Or maybe I'm horrible with it :P).
Then out of nowhere, I used this with my loose powder, and it works perfectly! And this is when I fell in love with it
(ok, i gotta end my love story here)
.
I'm not sure if it's a tactic, the way I use this brush is by patting it with the flat surface (not the tip of the bristles). First, I sort of use the flat surface to pick up my loose powder, then I "flick" the brush to take off the excess and then I pat the loose powder onto my face. It doesn't cake onto my foundation which makes the whole face "flawless & smooth".
Cons?
I'm not sure if this is me, but I find it hard to remove the foundation "stain" on the brush handle.
See below if you don't get what I meant.
This is when I first got my brush, it
was
sleek and nice.
After many months of using the brush....
Stain?!?!?!?! Or Mosses???!! Hmmmm............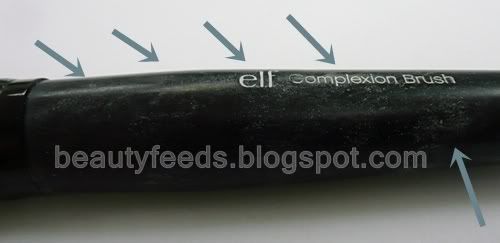 I did try to "scrub" them off but still the stain stays there.. It doesn't bother me much, but the look of it is a little scary...
But overall, I heart this... even though it gave me free weird stains....
Best of it, any brushes from ELF are super affordablecancry. You gotta have this even if you are a pro MUA, seriously!