To start off, I am not a liquid/cream foundation person. I dislike the double work (liquid/cream foundation + loose powder) that I have to do to my face. The "blending" process with them also takes up a lot of time for me (imagine the morning rush hour...).
But after using this L'egere BB cream, my perception towards the above statement changed, almost drastically. =_= I know BB creams are different compared to liquid foundation but to me, but the way to apply them are the same.
I
almost
nearly
wanted to break off with my
MAC Mineralized loose foundation
. >.<
Anyway, I got this baby 2 months ago from
fiobeauty
which comes with some "gold" serum...
*I haven't use the serum yet coz I don't really know what to do with it :P*
Here's how it looks like....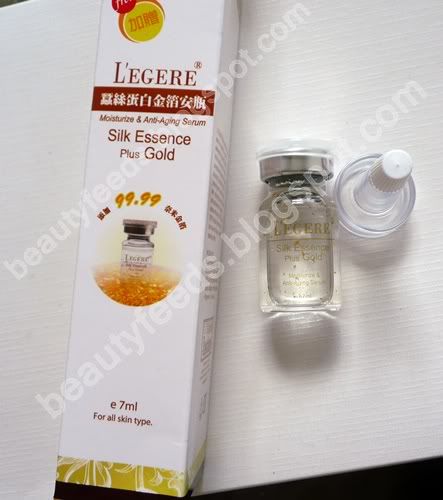 See the gold flecks? I read from somewhere that "gold" may not work for everyone, so I'm still leaving this aside for now. :)So, let's move them aside. :D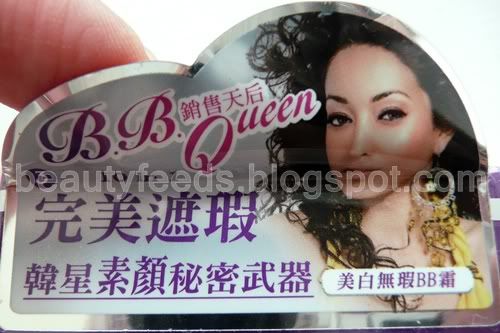 Seriously, these L'egere brand has been widely introduced by Queen before. I think they did came to Malaysia to promote them in JB (correct me if I'm wrong).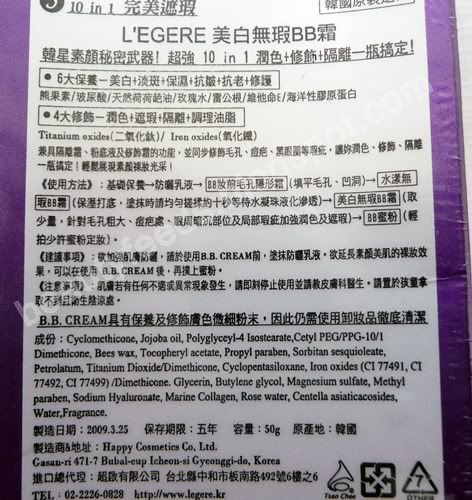 The back instructions. Let me know if you need some translation done. :)
The small "instruction" page that comes with it.
Up close.

If you don't know, L'egere has two types. One is the water drop shiny pearl version (in hot pink) and the multi white one (which I'm using).
The instructions ....
*Seriously, I don't recommend sponge, coz it soaks up lots of BB cream with it.. such a waste! ~tsk tsk *
Let's move on with the interesting stuff :D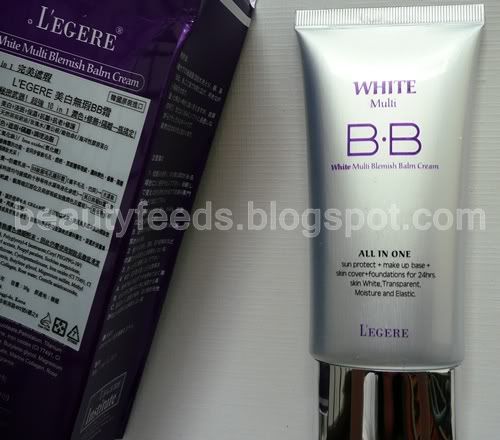 Seriously, they are quite big in size.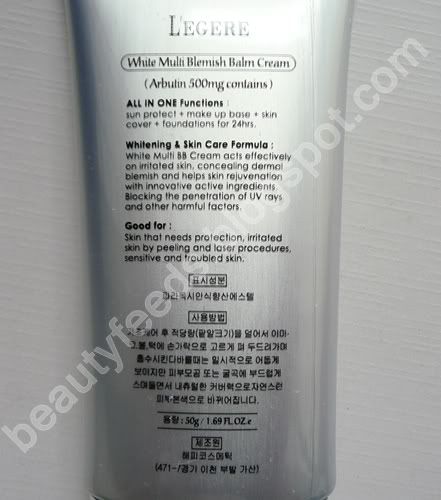 And the squeezable tube that is sealed tightly.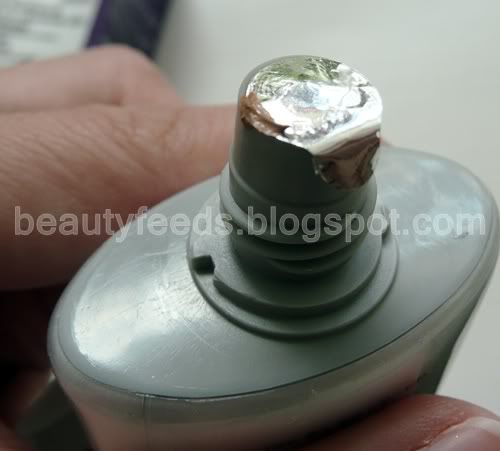 Here comes the swatches! :D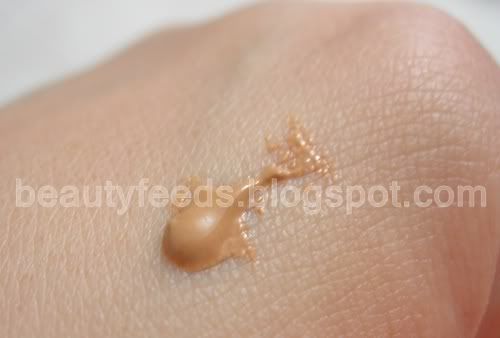 So dark right? But fear not! Coz when you rub it....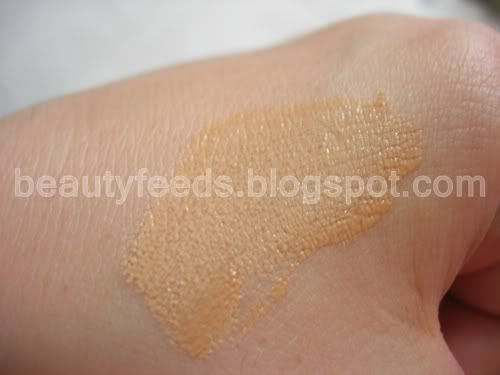 The color sunks into the skin.. and became lighter! Magical huh? :P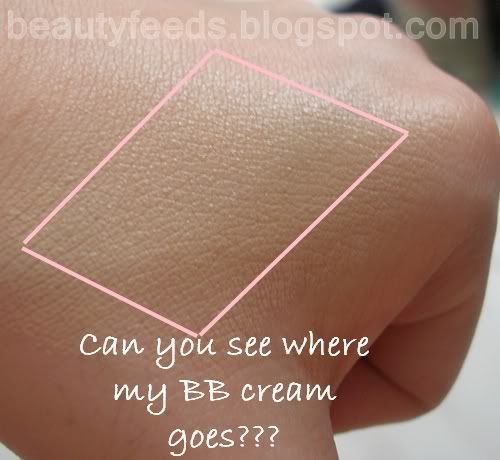 And I tell you, I tried to capture under many lightings to get the correct outcome of it. And it is so tiring. >.<
1. Under white light (snapped it in my office, shhhh :P )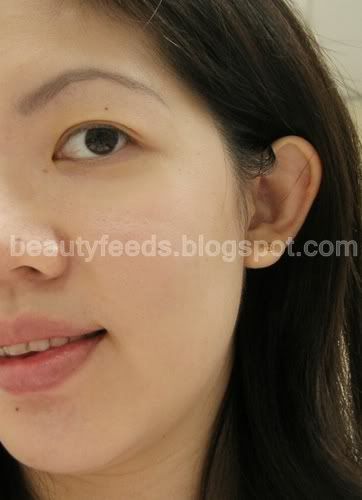 2. Another one, but looking weird here.. color contrast I guess. =_= But see, where's my fugly pores?! :D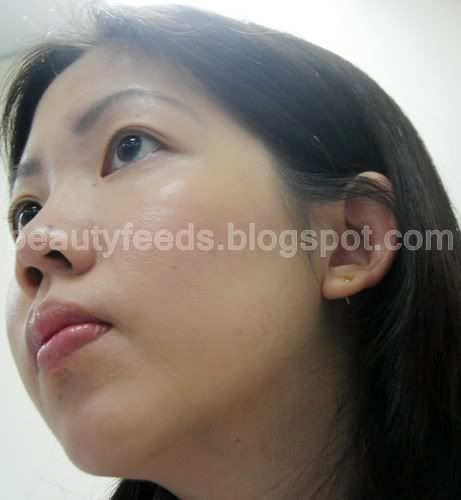 (I've lightly dusted loose powder on top and my blusher..)
This is the one I've taken them outdoor, with only the BB cream itself.
I used my foundation brush with it because I thought it might be easier to spread than using my fingers.. In the end, I see "streaks" of BB cream :P *lazy to blend properly :P*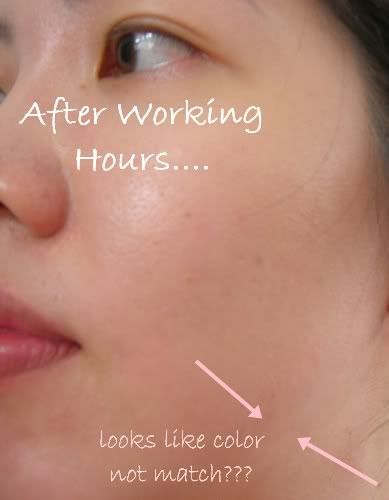 See how it glows on my skin? Love it :D
Anyway, here's what I think of it..
The Product:
50g
Price that I bought this:
RM60 (from Fiobeauty.com)
Manufactured in:
Korea
My thoughts for this product:
In short, BB cream is Moisturizer + Sunblock + Makeup Base + Foundation. But I'm not sure why L'egere stated that it has 10 in 1 functions with this. 6 skin care basic + 4 face make up functions. If these were so great, then we might just throw away all our skin care + make up and use only this BB cream alone. =_=
I used this L'egere White Multi BB cream right after all my skincare and after sunblock.
*
Wash face - Toner - Serum - Moisturizer - Sunblock - L'egere BB cream - Laura Mercier loose powder
*
I know some people use BB creams right after moisturizer. But for me, BB cream is categorized as makeup as it has foundation in it, so it is best to use them right after sunblock is applied.
I'm a NW20 for MAC's Studio Sculpt (I'll do a review and compare against this as I find them both quite alike ), and a light medium for MAC's mineralized loose foundation. So you see, I'm on a fair-natural side. My Revlon foundation color are 200 Nude. If you asked me if this L'egere is for dark skin ladies, I don't quite think so. I think this works fairly well for people with NC / NW20 - NC/NW 30 lor. :)
- Easy to blend, coz it is not too creamy. But I recommend to use fingers gently massage a little bit first on the back of the palm before applying to the face.
(I don't recommend massage and rubbing the product straight onto the skin because these are not skincare)
- No fragrance added, but a very very slight plastic scent.
- Stays "intact" to my skin, adds glow to it, so these are not matte-finish.
- Does not clog my skin *touch wood*
(but also depends on how each person takes off their makeup)
- Quite affordable compared to other brands like BRTC.
- Covers up my undereye well. I can save up concealers here! :D
- Not available in Malaysia. Have to look for local spreers or on-line stores to pre-order them.
Overall, L'egere did quite a good job on what it is suppose to do. I haven't tried the water drop shiny pearl version yet, but I think the other one should be more watery than the Multi white version. I think for RM60 per tube, it is quite affordable and a little goes a long way too! :)
The ingredients...
Do let me know your thoughts if any one of you have tried them before! ;)