Gosh. I am seriously not updating any since June 6. LOL! I was tied up by my work and I also went for a holiday in Bali (Indo) and that's why I'm not doing anything here.
(a lot of excuses as usual :P )
Well, time to update!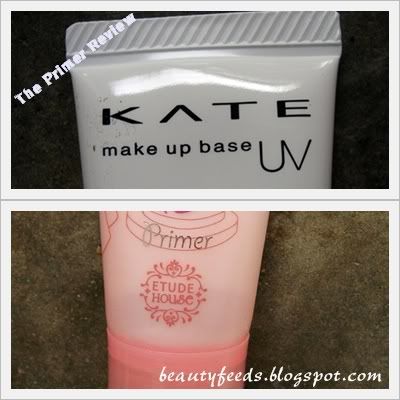 As you know, my
MUFE HD Base
is really not helping me (I think I got allergic to it -_-"), and to prevent the same mistake "investing" in counter brand's makeup, I went to buy two drugstore brand's MUB instead : Kate's Make up base UV and Etude On Screen Primer (Bought it after I tried Kate's).
I bought these two because I think they are quite affordable and I want to try whether if these two really suits me / change my mind in drugstore make up (I'm so "kiasi" especially for skin/MU products!).
Let's start with Kate Make up base UV.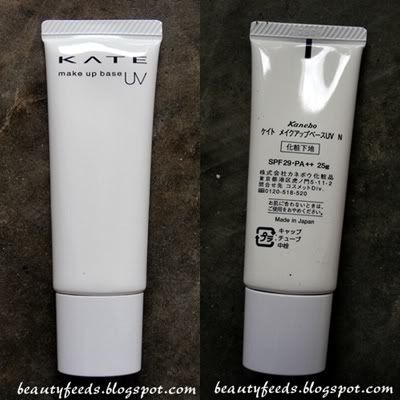 I'm not sure how much this cost but I think is about RM30 (or lesser).
The base tip, which I think it is very cool and less messy.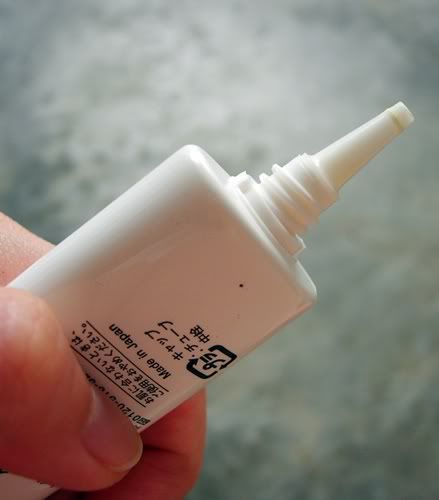 Kate Makeup Base UV.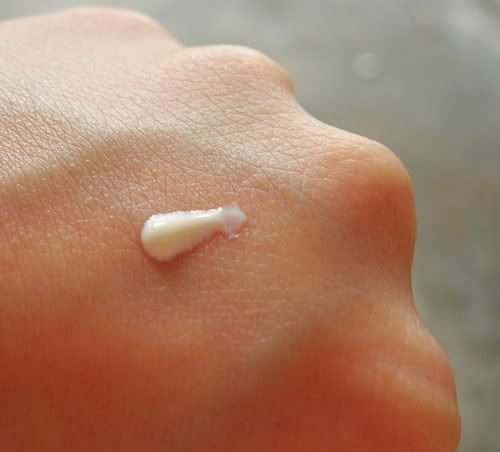 Spread on skin.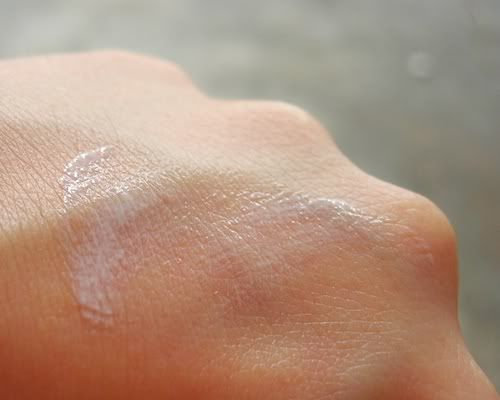 Pros:
Very handy packaging. It has a firm tip so that I can control how much base that I need.

Cons:
Smells sort of like Liquid paper plus UHU gum. -_-

Creamy and tacky consistency.

Difficult to spread on skin (because of its consistency) and quite drying for those who have dry skin.
My Thoughts:
I don't like sticky / creamy kind of bases because I think it is drying on my skin, especially I use powder foundation most of the time (and powder normally absorbs skin moisture / oil which sometimes make my face even drier. I am not fond of it's smell as well. It does make my make up stay put but I do find it a little too drying on my cheeks area (as I have combi skin).
PS: No detailed information / ingredients as I don't have the box anymore.
My rating for this primer:

Next up, Etude On Screen Primer #2 (For Dry Skin).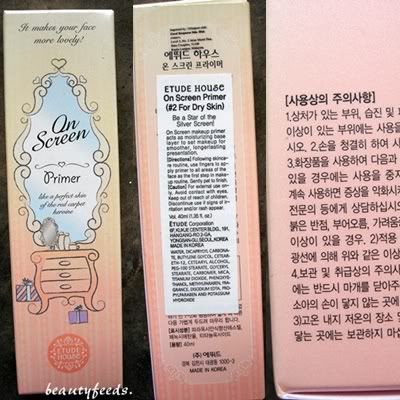 One of the reason I picked this primer is because it was the cheapest range of make up base in Etude (if I'm not mistaken) - RM39.90.
The packaging.
The product.
Spread on skin.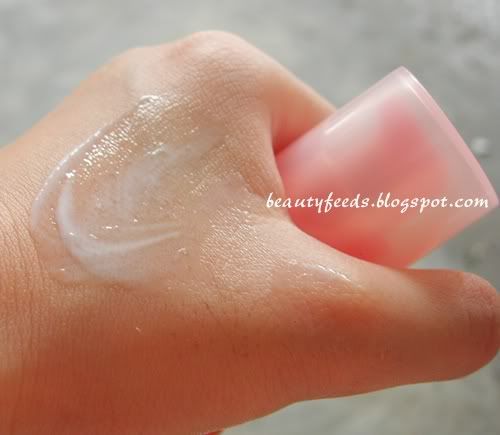 After spread-on. The MUA told me there are two types (#1 and #2) .
#2 is for dry skin, watery consistency..
#1 version is for oily skin, and the consistency is a little stickier than #2.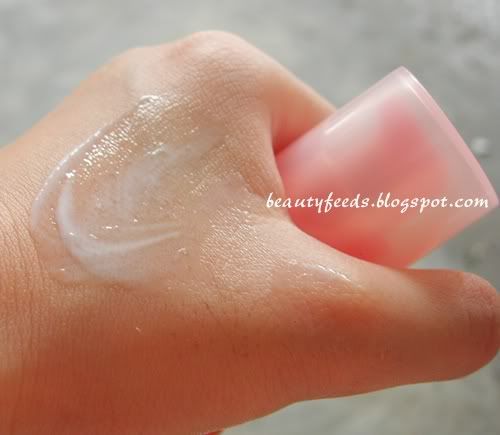 Pros:
Pump bottle. Less messy. (But the primer cap is very loose -_-")
Easier to spread on.
Skin feels more hydrated compared to Kate's Make up base.

Contains not too strong fragrance (sweet rosey smell)

Cons:
My Thoughts:
Etude primer spreads on easily without any "rubbing" movements on my skin. Feels very light-weight as well. One thing about this is that the primer is a little too watery. And because of its watery consistency, it absorbs to my skin slower. Other than that, the make up base works quite well together with my powder foundation.
My rating for this primer:

Difference within the two.
*Made in different countries.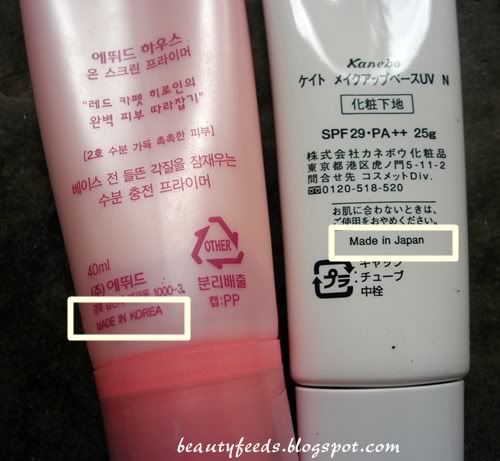 The packaging. I like Etude's packaging more as it is easier to handle than Kate's.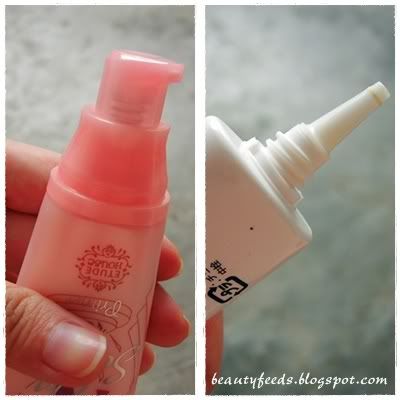 The consistency of both primers.
Etude's is more watery than Kate's.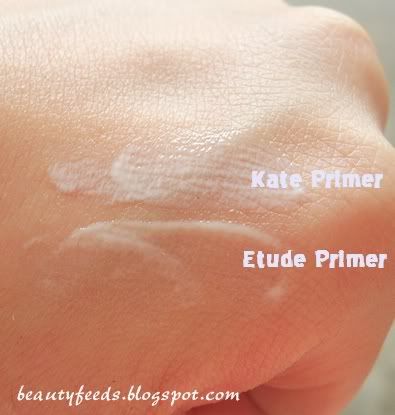 Overall, I think Etude's primer works quite well (wins over my
MUFE HD Base
IMO) and affordable too!
Here's my calculation:


Etude 40 ML = RM39.90 (RM1 per ML)
Kate 25g = RM30 (RM1.2 per ML)
MUFE HD Base 30ML = RM105

(Jakarta Price)

(RM3.50 per ML)
Guerlain 30ML = RM200 (RM6.70 per ML)
I would definitely re- purchase Etude on-screen primer again if I ever ran out of them. :)