Ever heard of Niu Er products?
I've been using these products for quite sometime now and I think its about time I review them a little bit.
This is the handsome young man behind this brand.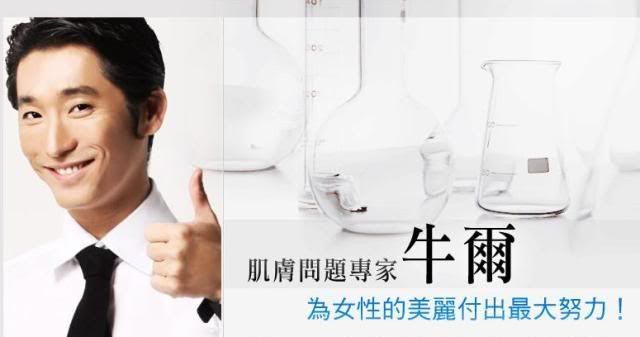 "Skin specialist" Niu Er (牛爾)
He has his own website too >
*click*
One of his range of product called "Bionic" was really satisfying for me. You can see more
here
.
Bionic is a short name for Lactobionic, chinese called 乳糖酸. Here's some data from google:
Ideal for post procedural care and acne recovery
Provides softness and a velvety smoothness to the skin

AHA anti-aging properties and cell turnover benefits
Exfoliates, plumps and soothes skin
Provides intense moisturization to minimize the visible signs of aging.
and more interesting....
Has been in medical applications including as an ingredient in preservation solutions for human organs for transplantation!!
From Niu Er's Bionic range, I only picked two out of the three of them.
There are also other brands who uses lactobionic acid such as Neostrata and Nuskin. And of coz, they were incomparable with Niu Er's range because of its price factor. :P
The packaging of these range were in white and it looks a little "too simple" with its design.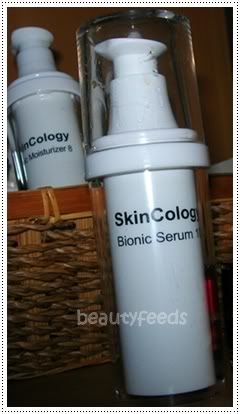 (1) Bionic serum 10 (Serum)

The benefits from this bottle of serum from the website were tightening of pores, whitening & hydrating benefits.
Main ingredients were Lactobionic acid, glycerin, Vit A, E and C.
How it looks like?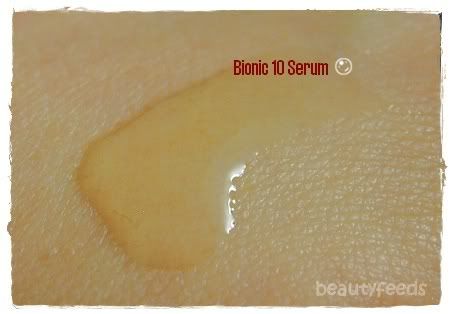 Crystal clear liquid...
Price: NT550 for 30ML (approximate RM60+)
Overall Review:
It absorbs to the skin almost instantly after applied. It is quite watery and it contains very very minimal fragrance in it. I love this a lot because it does shows tightening of pores (on me). I recommend this for those who have oily or combi skin. It does feel a little drying for those who had dry skin.
My rating for this :

(2) Bionic 8 (Moisturizer)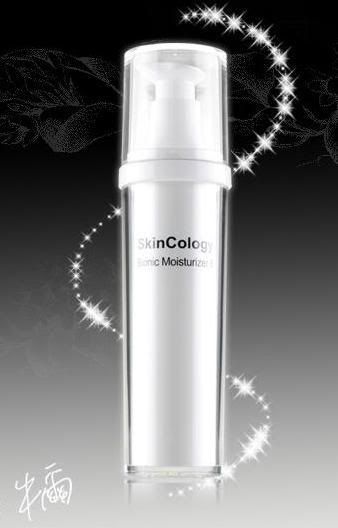 * Picture credits to
Payeasy
*
How it looks like?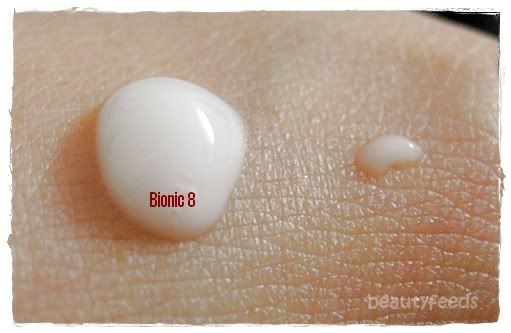 After application....
Price: NT500 for 50ml (approx RM55+)
Overall Review: This lightweight moisturizer absorbs into the skin fairly quick. However, it absorbs a little slower than its other cousin called
Q10 rejuvenation emultion.
The consistency of Bionic 8 is also a little watery but after application onto the skin, it feels quite moisturizing. Best of it ,the moisturizer does not feel oily(or shiny) nor sticky too.
After almost a year of owning this, I did not break out at all.
One side note, this moisturizer and serum works better if they are paired together
.
My review for this:

Here's my before and after pics (sorry for the bad lighting!)
Before: Cleansed face without anything on
After: Bionic Serum 10 & Bionic Moisturizer 8