Wondering what this cool + gold-looking bottle is?

It's a very light weight moisturizer from one of the Skincology Q10 range (brought to you from the famous 牛爾, also referred from Ladies first / 女人我最大).
The actual advertisement from
Payeasy
looks like the below picture. It looks more elegant in real life, huh?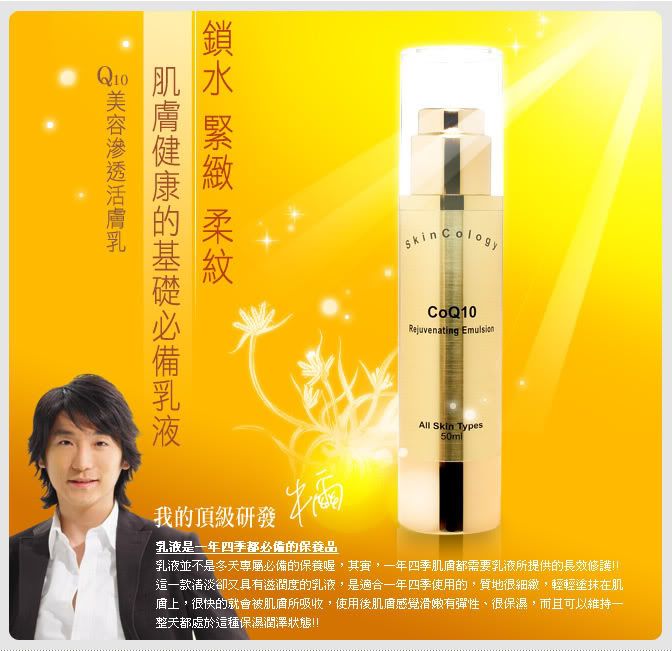 If you haven't heard of who & what Skincology is all about, I bet you sure know who Niu Er (牛爾)is.

I haven't tried the whole Q10 range, but what I can say about this emulsion is that it works well with my skin.



FYI: "CoQ10 also referred to as

Co

enzyme

Q

10

"



The product: Q10美容滲透活膚乳
Product Form: Liquid Type.
Description: Light-weight and almost fragrance-free emulsion. Also acts as a moisturizer, which comes in a pump bottle.
Size: 50ml
Suitable for All Skin Types
Price: 500Taiwan Yuan,

RM65

(plus minus) upon conversion

Let's take a step closer to the product.



The Pump



The bottle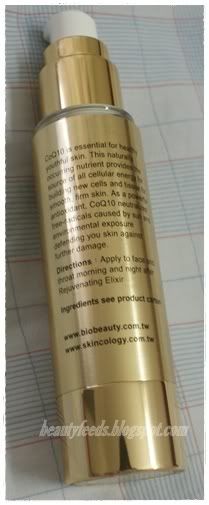 The label below the bottle which indicates the steps to follow in Chinese.

Translation: Emulsion will make your skin softer and enhance skin hydration. To be used day & night, apply about 5 cent (Taiwan $$) size of the product and gently massage until product is absorbed completely on the skin.
And last but not least, the liquid~

Overall reviews:
I'm using this emulsion as my night moisturizer and I feel that the emulsion absorbed to the skin almost instantly after it is applied. It does not feel oily on my skin and I can feel a slight "skin tightness". In other words, this product with Q10 benefits will actually prevent damage to collagen and elastic production process and help you

avoid wrinkles

.


My rating: