Have you been kitty-fied already?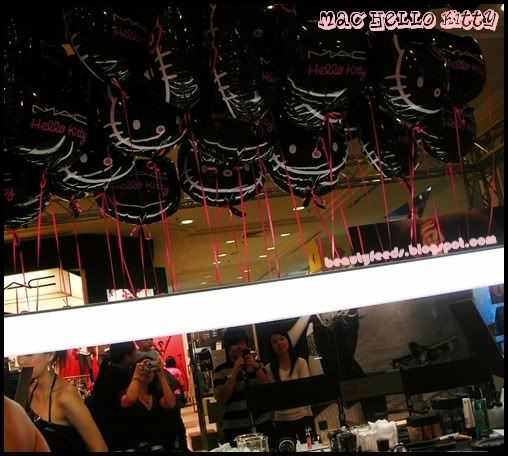 Well, I am seriously been kitty-fied this two days. Spend almost 6 hours (total!) for two days.
Let me present you Mild Kitty Collection...Missing in here was theLucky Tom Pallet and the Eye lashes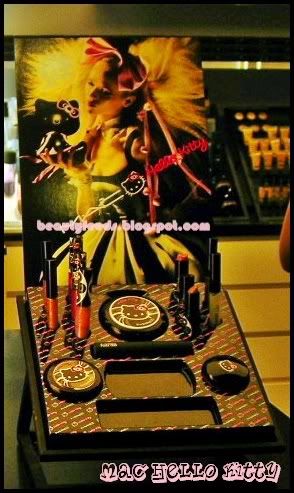 And the mild kitty model..
The Wild Kitty Collection..
And the Wild Kitty Model.. The model very tall okay... all the way from KL yo!
My first day to MAC was my haul day, and the second day (today) was my balloon & biscuit day. I'm vain I know. But I didn't went there just because of the kitty balloon & kitty biscuits. I was in that area and dropped by since my friend was eye-ing the balloon for her kid.
And the chocolate biscuit with sugar coating..
The MUAs there were so cute! Mild kitty MUAs were dressed up with fluffy skirt and the Wild kitty MUAs were dressed up with shiny black pants! So cool!
Managed to take one pic when they were working. :P
And guess what. Most of the popular items were snapped up / being reserved on the first day itself (Friday). Yours truly got all of her stuff because of her kiasu-ness (reserved them before the launch =P).
My haul consists of 2 pigments, 1 Pink Fish (Tinted lip conditioner-RM62), 1 Make up bag, 1 She Loves candy lipglass.
About RM500 gone. What they gave me in return was the HK paper bag.
Hello Kitty Make up bag! RM130. This was way better than the smaller one as the smaller bag's size was so small. More like a coin bag and I wouldnt spend RM85 for a coin bag. -_-"
My Hello kitty Make up bag interior. (Spot something in there? :P )
My 187 brush can be stored in this bag too! Size just nice.
The pendant...
All the kitty plush doll were sold off. I wasn't going for it and it seems a little "out of shape" to me. LOLs! RM160 for the doll. Their purse mirror also sold off on the first day itself too! Didn't know Penang has so many Hello Kitty fans! -_- Oh, and their brush set + brush holder too! So crazy right!
Pink Fish & Popster TLC was off the rack too! Luckily the kiasu-me did ordered this also beforehand :P
This lip conditioner has SPF 15...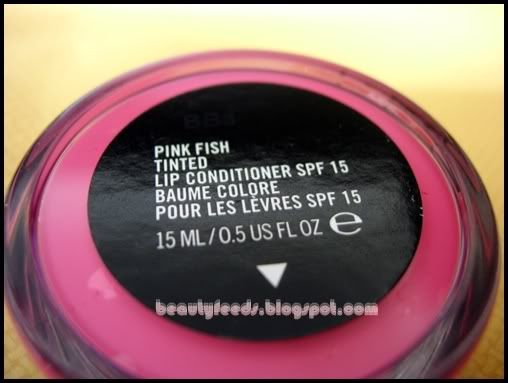 And it smells nice! sugary lippie!
I got myself another lip product which is the She loves Candy Lipglass..
The packaging is so irresistible!
See.. the kitty is smiling at me! :P
Show off a bit...
I did also swatched the nail colors... But didn't bought any since the color is not really appealing to me..
I didn't get to swatch the beauty powders / blushes as they look "blah" to me.. And they were also sold out already in counters..
But I did get to swatch the other lip products..
My friend also did her Makeover too! By Joanne...
Nice right.. :P
Last but not least, I managed to get hold of my MUA to cam-whore.. since the stage was so quiet..
Anyway, I appreciate Joanne, my MUA (thanks girl if you are reading this!! :P) did for me this two days. Really enjoyed myself more than the previous events (fafi/barbie). I wonder if they will come out with cartoons again next year...
*PS* If you are wondering, Too Dolly and Lucky Tom Palette is still available as the they bring in more stocks for this. Also, Grand Duos collection are out too! We are ahead of US this time. :P
I got myself Love Rocks from Grand Duo collection... 3 MSFs ...
And the swatches, RM95/each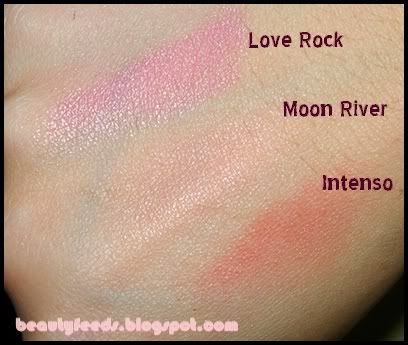 So what are you waiting for ? Go party at your nearest MAC now!