Before I forgets....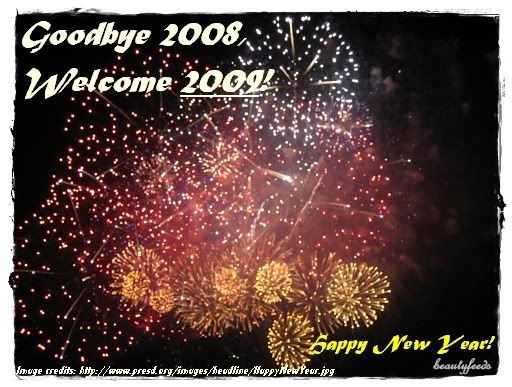 It's the first day of Jan 2009 people!! New Year, New Resolution, and New Make ups! LOL!
I need to limit my spending in makeup this year, which is one of my new year's resolution. -_-
Well, I really broke my bank not once but many times in 2008. Blame it all on the benefits of online shopping and surfing. -_-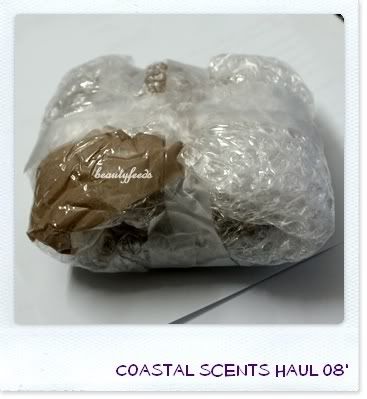 And yeah, this was the last one that came in before we ended year 2008. LOL. Bless mi Coastal Scents.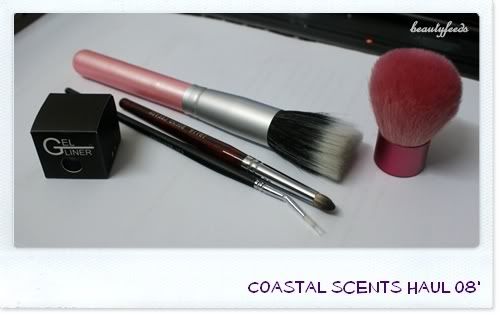 This was just part of it. I haven't really tried them out yet. But the brushes did disappoint me a bit.
What I got:
-
Pink Kabuki Brush
USD4.99
-
Italian Badger Round Crease Brush
USD2.49
-
White Angled Liner Brush
USD2.19
-
Pink Duo Fiber Powder Stippler
USD7.95
-
Gel Liner : Indigo Blue
Up close of it...
Well, let's go on the negative part first. Look at the above picture.. it reminds me of someone...
My
187SE
.
I mean the Pink Duo Fiber Powder Stippler = 187SE.
Hell yeah, it bleeds. Like crazy. -_-
USD7.95. Gone. Just like that.
The brush WAS super soft, which I thought it might be flimsy or somewhat. It DID feel like baby hair at first touch. But it also got a straight F9 for me. No credit for this one.
And guess what, EDM will launch their stippling brush in Jan! I am not sure if I am going to pass this one after
so many
two bleeding brushes that I got. -_-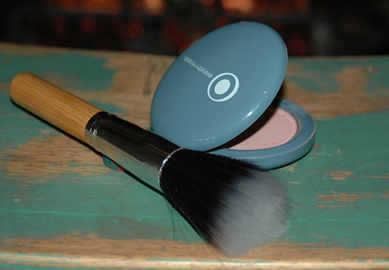 photo credits to
EDM website
.
No stain found in the brush above right... *hmmmm*
However, the pink kabuki brush was okay.
It does smell like paint/glue at the beginning, but it died down a little after I washed it.
BTW, the pink kabuki's brush bristle is soft too..
However, compared to my
EDM Flat Top Brush
's quality wise, EDM's brush wins hands down.
The badger round crease brush was good, IMO. It is very dense and compact and no bleeding too! Thumbs up for that!
Anyway, I'll try to review the rest of them soon. Happy new year to all!
xoxo,