I never thought I would have tried Kiehl's if I didn't go down for a
KL holiday trip last December
. :D
Boo-boo to Penang coz Kiehls never attracted to their assam laksa. (LOL)
I got this little but very generous sample from Kiehls in Mid Valley's branch.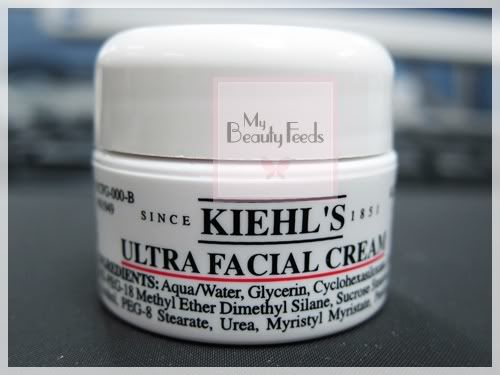 Boy oh boy I was excited and happy deep inside! Thanks again Kiehls! This would probably last me for many months even though you told me it would last me for only a month.
If you haven't try their products, do check out their
website
! Very informative and user friendly too!
Got this below from their
webbie
too! I didn't saw this label behind the little sample jar, but I believed this label should be available in their actual size product.
Even though it's only 7ml but it's a lot more than that! :D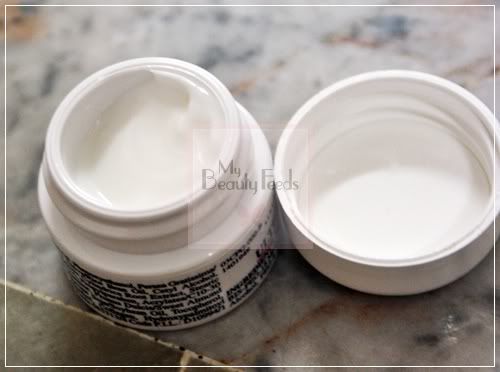 Crazy right? I've used them for quite some time now ... a little goes a long way! You don't even need a pea size for this.
Kiehl's Ultra Facial Cream.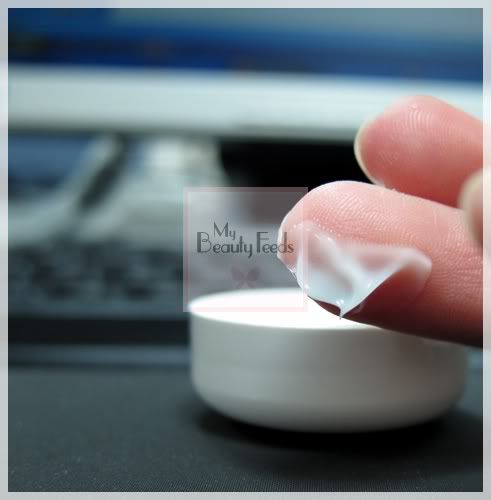 On my hand.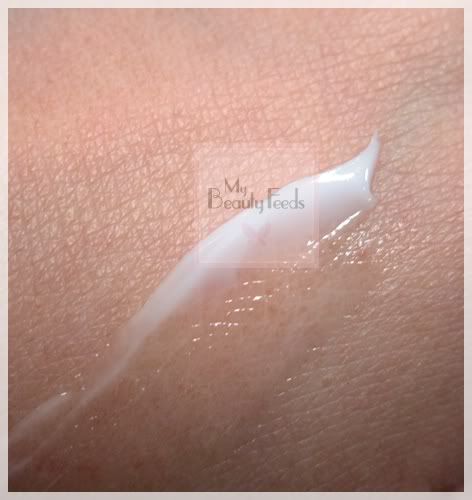 Applied.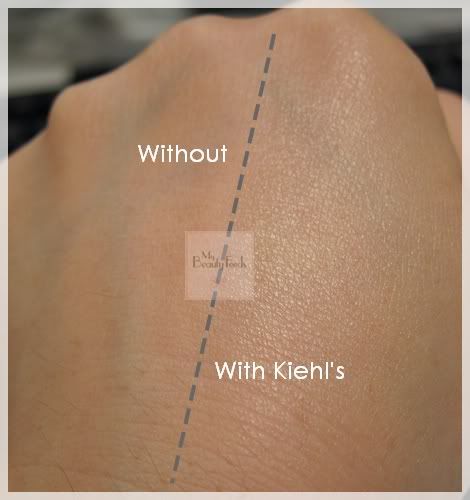 The Product:
Kiehl's Ultra Facial Cream 0.25 fl. oz/ 7ml (No SPF)
Price:
Sample given free ;



Inspired by our original, beloved Ultra Facial Moisturizer, this 24-hour, light-textured daily hydrator leaves skin comfortable and visibly well-balanced, particularly in harsh weather conditions. Our formula is made with Antarcticine–a Glycoprotein extracted from microorganisms sourced from sea glaciers and notable for an ability to protect skin from cold temperatures–as well as Imperata Cylindrica, a plant indigenous to the Australian desert which possesses superb water retention properties in dry conditions. Our unique combination of ingredients helps reduce moisture loss while drawing and absorbing moisture from the air. With continuous water replenishment throughout the day, skin is smooth, healthy-looking, and "moisture-even."

24 Hour, light-textured hydrator
Reduces moisture loss
Continuous water replenishment throughout day
Inspired by our original, Ultra Facial Moisturizer
Not tested on animals
For the following SKINTYPES:
/Sue/ I didn't know Normal / Normal to Oily can use this as well. =/
Some Key ingredients that may facinate you. :D
Antarcticine (Glacial Glycoprotein Extract)
ant-ARK-tuh-seen
Antarcticine, sourced from Antarctica, is a glycoprotein* that has demonstrated many unique benefits when used in skincare formulas. With superb protection against dryness, Antarcticine helps hydrate skin and provides it with a noticeably smoother appearance while shielding skin from the damaging effects of free-radicals. It further helps to protect skin from extremely cold temperatures, facilitating skin's retention of natural water reserves. The organic substance thrives in the most extreme environmental conditions as a result of the cryoprotective (protection against freezing) properties of the molecule.

*A glycoprotein is a macromolecule composed of a protein and a carbohydrate (an oligosaccharide).
Imperata Cylindrica (Desert Plant Extract)
im-per-AH-duh suh-LIN-dri-kuh
The Imperata Cylindrica plant thrives in dry, excessively saline environments and is native to many of Earth's deserts, but is especially prolific in the Australian Outback. Imperata Cylindrica's roots contain high concentrations of potassium which provides an immediate and lasting hydrating effect. In our formulation, Imperata Cylindrica helps skin to store and retain moisture efficiently – even in the driest weather conditions. It is believed that indigenous Australians of centuries past used the desert plant as a substitute for salt, due to its high saline content.
Squalane (Perhydrosqualene or perhydrosqualene vegetal)
SKWA-lane
A highly refined moisturizing oil derived from the olive; Squalane is very silky and easily absorbed and has been found to be extremely compatible with the natural oils of the skin; we use Squalane in many of our formulations.
Erm. If Malaysia's weather gone down below 18 celcius, I would say this is an awesome facial cream! I was introduced by one of the KCR that this cream works great with dehydrated/dry skin (since I told her myself that my skin was somewhat dehydrated). And this was pretty true as I feel very moisturized after applying this onto my skin. My stubborn skin absorbs pretty well with this one. Oh btw, I used this as my night cream now. =)
However, there's a catch for this one.
I have to rub this moisturizer in between my palms to warm this moisturizer up before applying onto my skin. If this step is not done prior to application, I can feel the cream lingers on top of my skin.
Also, this ultra facial cream does give a little dewy effect. If you dislike those "dewy effect", stay away from this cream. I wouldn't recommend this for day use as well because our face will be super shiny if we top off with sunblock and foundation.
Would I repurchase this?
No for the time being. But if I stay under air-con 24/7, then maybe I'll think about it. =)
I couldn't capture the full ingredients for this one but do click onto the first pic on this post, the full ingredients is listed there. ;)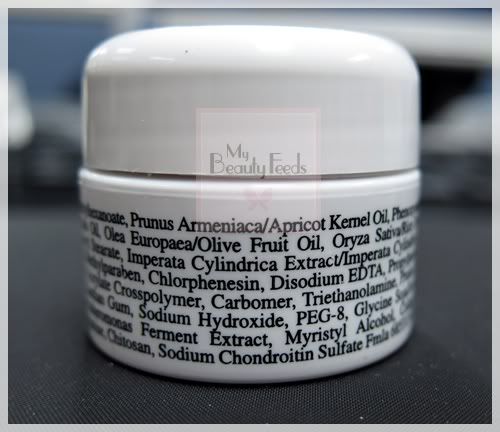 BTW, I'm currently using Kiehl's Yerba Mate Tea Gel Cream as well and I'm lovin' it. Will tell you more in another weeks time. :D