Yes, another one from this brand.
The product pic from the WWW. :)
Actual product that I got from
fiobeauty
again
:)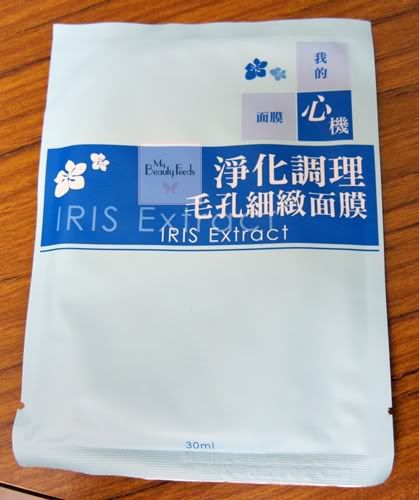 Elegantly in Blue.
Instructions and details.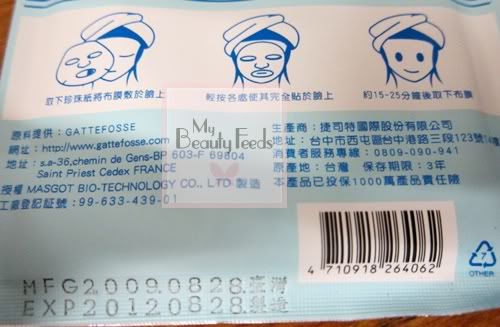 3
easy-peasy
steps:-
1. Take of the "white plastic".
2. Place it gently on your face.
3. Take the sheet mask off after 15-25 minutes and you're done. Pat the serum dry and apply moisturizer/creme if desired. ;)
Let's see what's left inside..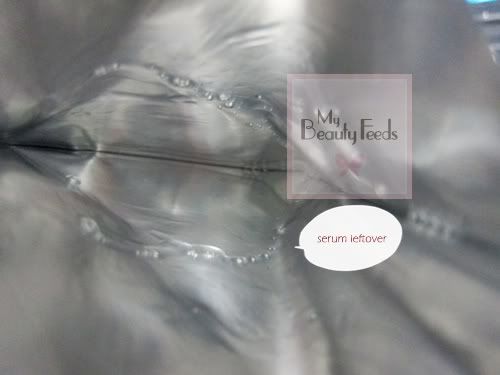 Not much left but pretty sufficient if you want to massage the serum onto your legs and hands. =)
To the test!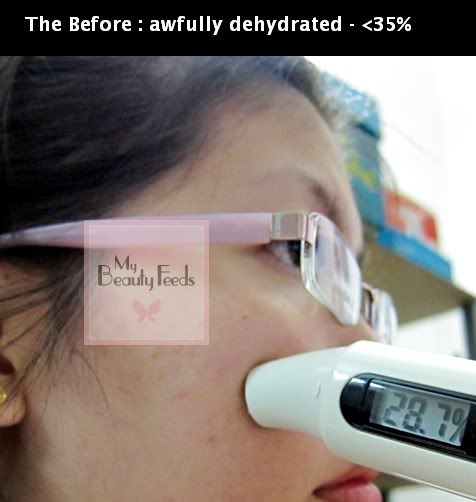 super-dehydrated. Gah!
So here we go with the sheet mask.
pardon the expression..haha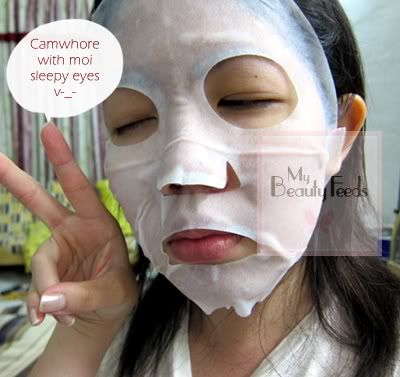 After 25 minutes
(I normally will extend the time if the mask is still very wet)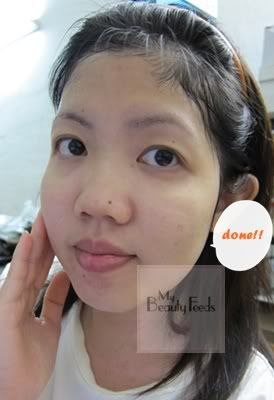 *i don't have great skin but normally skin will look "nice" after a nice sheet mask treatment*
To a test again!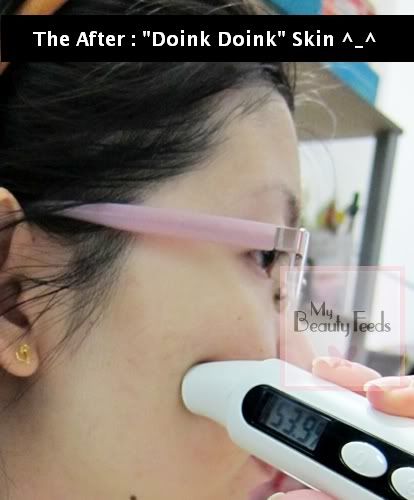 Almost a 50% moisture level increase!
The Product:
30ml, from
Fiobeauty
In chinese:-
針對偏油性肌膚所設計,具有抑制油脂分泌之功用,使肌膚看起來更清晰、光滑溫和,
徹底清除堆積於毛孔內污垢及老化角質,深入毛孔,防止阻塞,促進表皮代謝,
以鳶尾花萃取液為主要成份,質地溫和,平衡油脂分泌,改善肌膚因油脂衍生問題,
並加入海藻萃取液調整皮脂代謝問題,和金盞花、金縷梅、洋甘菊、蘑菇萃取液
具有安撫作用,同時有保濕、改善肌膚與平衡油脂幫助。

使肌膚晶瑩剔透無負擔,並添加高效保濕因子,質地清爽不黏不膩,
讓肌膚感覺清爽保濕、柔嫩細緻,賦活肌膚健康亮采,使肌膚更加柔嫩有光澤。
為肌膚補充大量水分,讓肌膚不再乾燥缺水,讓妳擁有一張水嫩嫩的臉!
Translation
(got this randomly from
here
)
:
- Designed specially for the oily skinned
- Helps in controlling oil blemishes
- Helps in totally removing dirt in our pores and exfoliating dead cells effectively
- Moisture essence found in the mask also aids in locking moisture in our skin, giving our skin ample moisture to prevent against dryness
- Suitable for all skin types especially those with oily or combination skin.
Price:
RM2.50
(varies between sellers)
My Thoughts:
Not bad but I like the
previous one
more. It does leave skin moisturized but don't expect it to be
"super
" moisturizing. I couldn't really tell what's so great about this as I believed most sheet mask are the same. I can only give a plus point that it doesn't have a strong fragrance in it and it is an average/okay sheet mask for what we are paying for.