I never really came across neck creams until a few online friends came to talk about them. Frankly speaking, the neck area was not even in my area of concern since I was just in my 20s back then.
Oh boy I was wrong! I was pretty horrified seeing myself having those "
zebra"-like wrinkles
when standing in front of the mirror. *_* (pic below) It was even more disgusting a few months ago when they were darker than the picture. Fio said it was probably due to "not properly" cleanse when bathing. Or in other words called "laki" (hokkien) xD
I remembered people said by looking at your neck, your age will be revealed without even asking! =_= Finally, I gave in and got myself a neck "gel" instead of those buttery cream ones since I don't fancy them that much
(think oil slick + body acne = horrifying pimples. argh. or maybe I think too much! lol!)
For a
newbie
noobie like me, I opted for Skincology from Niu Er since I'm pretty confident with his skin care range.
If you have not known, one of Niu Er's famous line is their hydrating range.
Because I hate the "oily" feeling of creams, I got the gel one instead.
BTW, don't their packaging just look alike? The right one was my
HG Moisturizer
. Talk about cost saving packaging! :P
The box that came with it.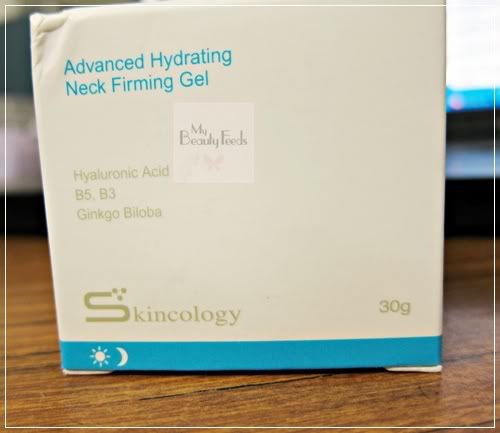 The Chinese description that comes with it.
In English and the ingredients of the neck gel.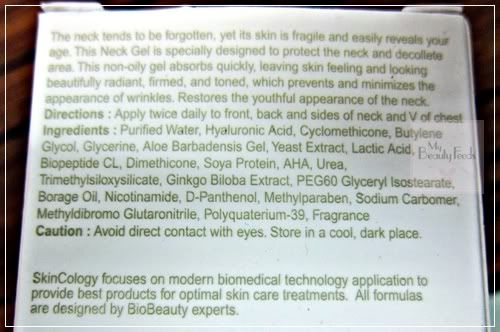 The actual product.
Bottle packaging.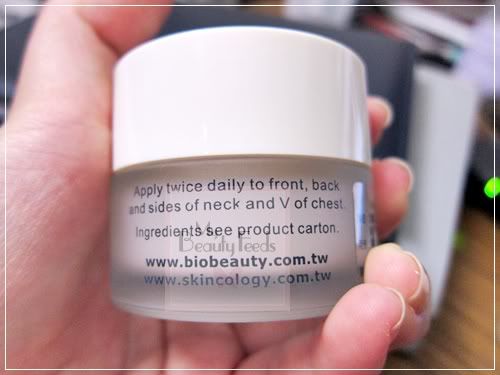 Nicely printed manufacturing and expiry dates.
The Advance Hydrating Neck Firm Gel.
And yes, I have been using it for about 2.5 months now. Almost time to change another one soon. LOL!
The gel.
The Product:
30g
Price
: RM48 (from
Fiobeauty.com
, as usual)
From fio's website &
payeasy
:
頸部專屬,全方位「保濕+緊實+抗老化」防護保養!!
這款清爽的水凝膠專門針對容易鬆弛的((頸部肌膚))所設計,
含有高單位的玻尿酸、蘆薈及乳酸萃取,能提供深層的給水補水功效,防止肌膚乾燥細紋,加上生大豆蛋白及,能促進肌膚緊實,防止肌膚鬆弛老化;維他命B3及銀杏萃取則能活化肌膚,促進肌膚更新活力。
吸收迅速,使用後便能讓頸部肌膚感受緊實細緻的膚觸!

頸部細紋、乾燥專用,創造天鵝般細緻、光滑的粉頸美人!!頸部肌膚特別容易出現鬆弛、疲憊、乾燥、缺水及細紋的情形,
這一款凝膠質地清爽,具有極佳的保濕及滋潤度,吸收迅速、
分子細緻,使用後肌膚不覺黏膩。
經常使用讓頸部肌膚更柔滑、緊緻。
Basically, it emphasizes on three things:
*保持頸部肌膚緊縮,預防鬆弛 = Firming
*吸收迅速,使用清爽、不粘膩 = Light, non-sticky & Fast absorption to the skin
*改善粗糙、不光滑的頸部肌膚 = Minimize Wrinkles/lines
My thoughts:
I'll let the picture do the talking. I'm just a little lost for words.

Do you noticed any difference? =X Let's look at the plus points first, I like how the gel feels, light weight and non-sticky. It also smells good and refreshing too! I think that is all I can say for the plus points.
Cons?
A handful of them. I do not see firming and I still see my obvious neck rings after 2.5months. I did not hope for a miracle by using this but at least it should show some improvements right? I'm not sure if it is me but I noticed my wrinkles are much more visible now. :(
Overall, even though the gel does feel relaxing and refreshing but I don't think I would repurchased this again. Maybe I should try the cream version of this instead. Please do let me know if you have a better neck creams/gels to recommend too! I just don't want to reveal too much of my age to the public yet. :P