I have been wanting to blog about this for so long... I couldn't find my old pics when I was looking up in my achieves yesterday. So since I was playing with my eyeshadows, I decided to take my ugly eyeshadow pics for you to see.. to celebrate Halloween
(since it's fugly and spooky, sort of..)
I got this set around May this year (I know I'm late) when I was joining a spree in LYN, and that was way before Stila got pulled out from Malaysia, so lucky me. :P
Here's the eyeshadow..
(pardon the freaky lighting.. it looks pretty dark here...)
When I first got the item, it looked so pretty !
How can you just not loved the look of it...
But when I tried to open the thing.. argh..crazy I tell you...
I had such a hard time opening the eye shadow. The way Stila packaged this eyeshadow is insane.. -_-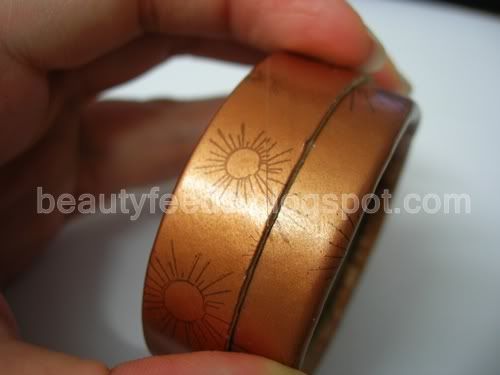 I don't know about them but I just don't understand why on earth they packaged it this way.. in an old crappy cardboard packaging -_-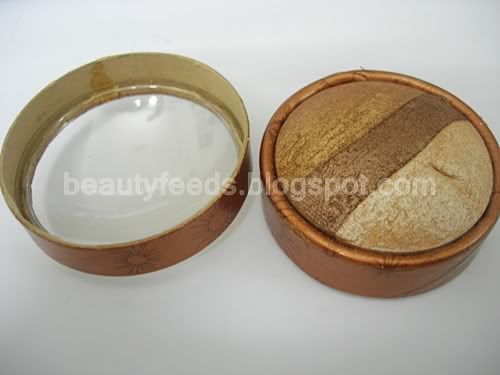 Because of the packaging, my nail went straight into the pot when I was trying to push it open. Sigh~
The swatch: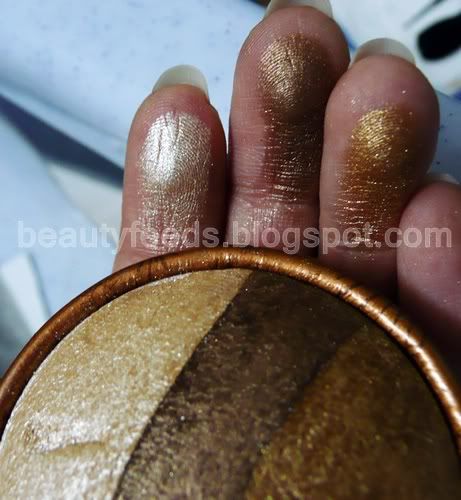 The Product: .17oz / 5g
Price:
$28 (from Sephora)
Colors available:
3 in total (Bronze Glow, Champagne Glow and Gold Glow)
From Sephora's website:
Eye Shadow Trio
Let your lids look like they've been lying in the sun. Designed to be applied either wet or dry, this eyeshadow trio is baked on a terra cotta disk for a sheer, never chalky, application. The bronze trio features three different tonal shades for use as a base, crease shadow, and eyeliner.
My thoughts about it:
I don't dislike it and neither I'm loving it. It looks really pigmented and it is pigmented. It doesn't feel glittery but it is shimmery. Not too powdery or chalky either. It does shows up nicely on skin and what I like about it is the "highlighter" color. It's glowy but not too overboard.
I'm not sure if it's me or what, but I find it a little hard to get it show up in my skin. I have to swipe several times with my brush to get the color out onto my skin. But when I swipe it on my finger, the damn color showed up. -_- Weird. Another cons about it is the price, for $28, this is freaking expensive! Even though it is "baked" , but still the price tag is killing me. I wouldn't have bought this if I have to buy this individually.
Before I forget, here's a little spooky "eotd" I"m trying to come up with.. I was actually playing with my scotch tape to get the "clean" line of it. :) Pardon the mess about the liner. :P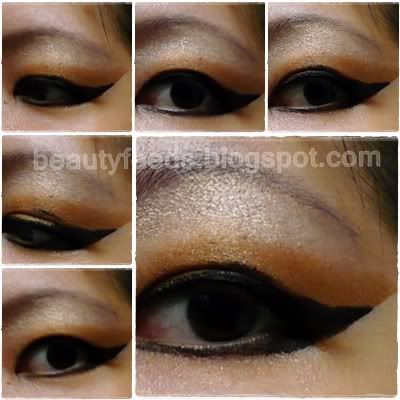 Before I forget, Happy Halloween People! :D