I didn't know about Covergirl cosmetics until I watched America's Next Top Model hosted by Tyra Banks. And I got this mascara way earlier before I watched ANTM from a friend in Canada since she did some good reviews on it before. Talk about temptations... hmm.. :P
The packaging was exactly like the above, but when I search in Covergirl's website, the picture looked even better and more "canggih" looking!
Get no clump, no glob, beautifully-defined lashes. The LashExact brush is a patented technology with bristles that are aligned and clean, so you get the Exact look you want. Also available in Waterproof.
Here's how mine looks like...
Behind the box...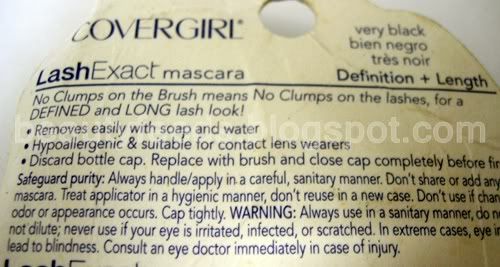 *No clumps on the Brush means no Clumps on the Lashes, for a DEFINED and LONG lash look!* sounds like a slogan to me :P
The brush...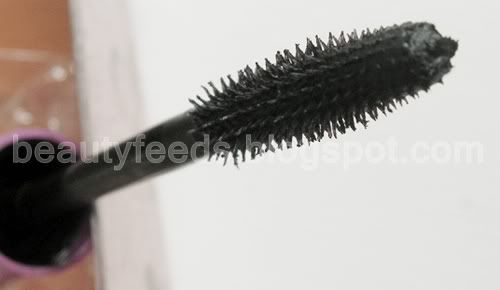 When I look back at the pictures, the bristles of the wand is purple.. so I went back to my mascara and wipe them off for you to see whether if it's purple ..
*tadaaa....*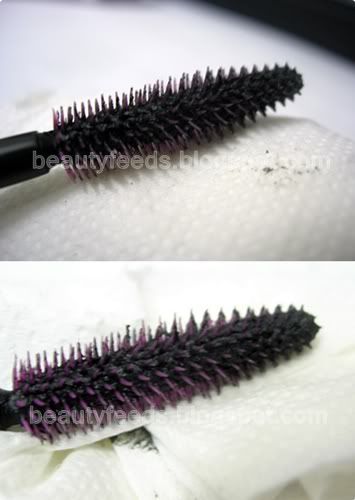 Yes it is purple! But I don't know why they make it like that.. maybe it's the marketing strategy to attract buyers like me.. :P
Here's some pictures for justice! :P
*from the pic:
I don't use eye curler prior to this.. and also, I've quite short lash until you can't really see them in real life (see the first pic for justice ! =P )

I got this in 900 - Very black. It looks normal black to me.. same like my other black mascaras. I think my lash exact is the waterproof one.
Colors available in total
:
4 colors, 2 type of blacks & 2 types of brown (from Covergirl's website)
The first thing that draws itself to me is the wand. The wand is so unique in the first place. And it's in purple!

(I always fell for the product

packaging :P)

One thing that is unique from my other mascaras is the rubber bristles that is attached to it. Unlike my other mascaras, this wand is soft and rubbery. It is not stiff like my other mascaras and you don't feel the "tough" pressure when you swipe it onto the lashes. Other than that, it also separates my lashes nicely and this mascara dries off pretty quickly too! I also give them some plus point for no smudging as well! :)
Sometimes this mascara gave me a hard time. I had to swipe a few times to get my lashes curled up nicely. And when you have multiple swipes on it, the lashes became messy and "heavy weight"
(my lashes are already short and this makes it even worst -_-")
. In the end, it doesn't give any defination at all. The other thing is that it doesn't really do a good job in curling. I have to get my eye curler to do the job prior to the mascara application. Covergirl cosmetics is also not available in Malaysia, so I think it's another problem to get them.
Nope, I don't think so. The wand is great but if the mascara doesn't do the job, I wouldn't want to spend my money on this just to get the "feel" of the mascara wand. I read reviews on Covergirl's Lash Blast and I think they might do a better job than this one. :)
The ingredients..

So, have you owned any Covergirl mascaras? Let me know, maybe I can chuck this off already. :P