By looking at the pic above, it doesn't do much justice. Let me explain more below.
Kindly note that I'm not comparing against eye bases. I just wanted to show the difference between using these products below...
Looking familiar? :)
Let me explain further.
The first one...
Mineral Eyeshadow Sealant. I'm not sure if we can get this locally but I got this from
MAD Minerals
some time back.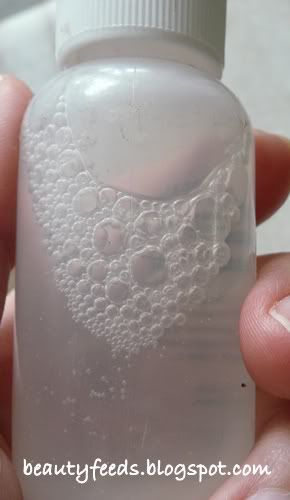 This comes in a liquid form, but quite watery for my liking. More like an eyeliner sealant rather than an eyeshadow sealant.
Second one...
MAC Butternutty Shadestick.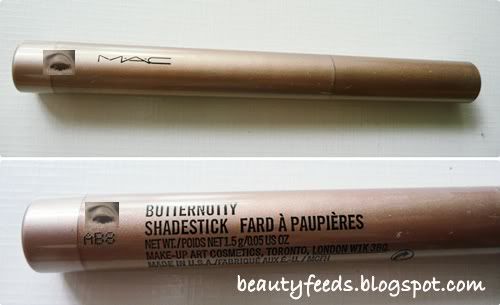 How it looks like..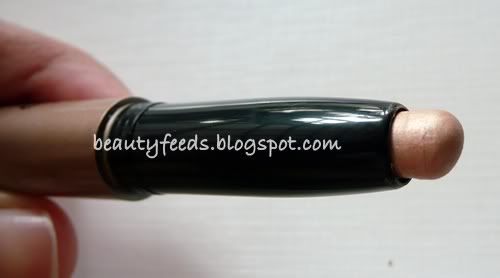 The third one..
NYX Jumbo Eye Shadow pencil in Milk. I think most people should have known them by now. :P

The ingredients of this pencil..
Last but not least, the "high-end" eyeshadow primer by Too Faced. :)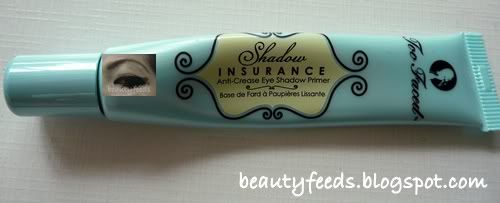 You may asked why
TFSI
? The reason is because normally we either apply our eyeshadow without any canvas/bases on our skin, but nowadays, people believed that by using primer, the shadows will "POP". But we shall see what happens when we compared against the other 3 below.
Normally I'll compared against this three things...
1. TFSI (Too Faced Shadow Insurance)
2. MAC Butternutty Shadestick
3. NYX Jumbo Eye Shadow Pencil in Milk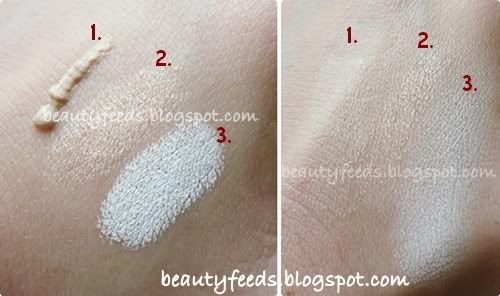 But since I still got my sealant, I'll include it into my review. :)
The more detailed swatches of these "bases"...
I compared these outcomes with the normal eyeshadow and some random MAC pigments.
For a start, I go with MAC pigments first in Pinked Mauve and Tea Time.

Do you noticed any difference?
If you look closely, with NYX Jumbo Eye Shadow pencil in Milk, Tea Time pigment looked a little darker. But on with the rest of the bases, the looked normal. The same goes with Pinked Mauve pigment. I guess the pigment itself is already sufficient to go on its own
(just like Gardenia bread :P)
.
Ok, so let's move on with the normal eye shadows.
Can you see the difference? :D
Maybe this will help you a little more. :)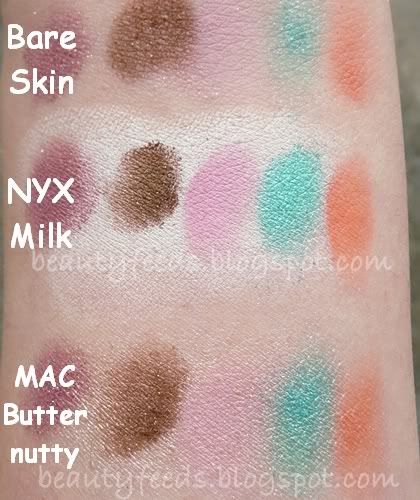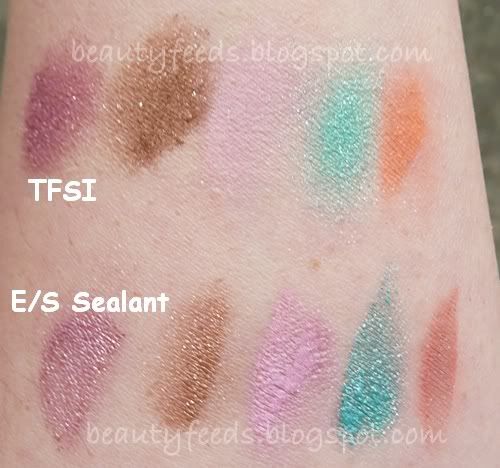 NYX Jumbo Eye Shadow pencil really shows some difference between the other three. The colors are more vibrant looking, don't you think so? Just take look at those eye shadows applied without anything underneath! The pink shadows looks really "blahhhh" to me.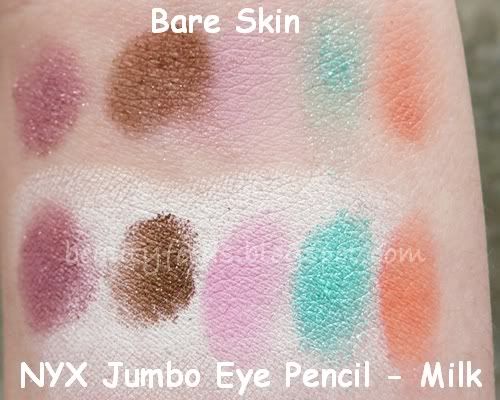 MAC Butternutty shadestick does quite a good job too. But it does not showed up so vibrant like what NYX did. It gives a more "velvety" feel to it.
I did compared them both again with other colors.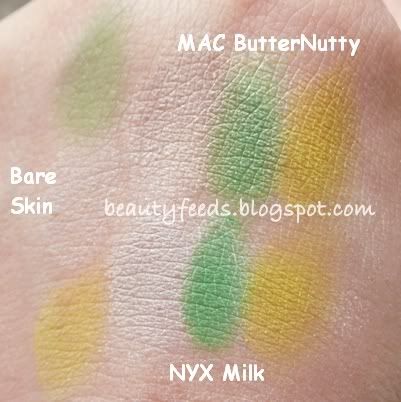 Overall, for myself, NYX Jumbo Eye Shadow Pencils are really a great tool and underbase if you want to make your eye shadows "POP". The reason being is because it has quite a lot of wax in it's ingredients so that it makes the texture more sticky and silky.
But does it crease? If you use it alone, of coz it will crease. But if an eye shadow applied above them, it stays on beautifully (but this may not be the same for other people). :)
However, one reason that I don't quite like about NYX is that it takes some effort to remove them. Because of the waxy ingredients, it tends to stick on like UHU on my skin. :P
About MAC Butternutty shadestick, even though it gives a velvety effect to the shadows, but it is so hard to blend them on the skin!! It is not as silky as NYX Jumbo E/S pencil, also it leaves some chunk "glitters" if it is not blended evenly. -_-" Stroking this onto the eye is not a problem, but blending is a huge problem to me. I have to do some sort of "Rubbing" with my fingers and the eye brushes doesn't seem to work together also. -_-"
As for the Mineral Eye Sealant by MAD Minerals. I don't know what to say. Ha ha. Coz it doesn't really seal any eyeshadow to me. It dries on pretty quickly after I applied them onto my eye. But guess what, it leaves a patch straight on to the skin without letting me blend them. So I guess it works more like an eye liner sealant rather than an eye shadow sealant. :)
In short, here's the summary of these four things:
NYX Jumbo Eye Shadow Pencil (From Nonpareil boutique): $3.50
MAC Butternutty shadestick: $16.50
Too Faced Shadow Insurance
: $17
MAD Mineral Eye Shadow Sealant: $7
From the prices above, I do recommend NYX Jumbo Eye Shadow Pencils since it is cheap and they have many other colors as well. As for
TFSI,
it really is a great primer like I reviewed about it before
(HERE)
. It is just like a make up base, that gives an extra "protection" to our skin (our skin area around the eyes are really thin and wrinkles do form easily if we do not take care of it) and also to "lock" our eye make up to prevent them from creasing and fade. :)