Do you ever taken so many photos of something that you totally forgot about it? Well, I do. And when I look through my old achieve of my photo album, I have tons of pictures of my skin care that I "was" intended to post up last time. Geez.
OK. Back to the topic.
This is called a
hydrating primer treatment essence
.
I don't know why Niu Er actually named it this way, but from their
Payeasy website
, this was considered one of their toner range. This is my second bottle already, because I dropped the first bottle (don't ask! -_-").
Comes in a plain white packaging.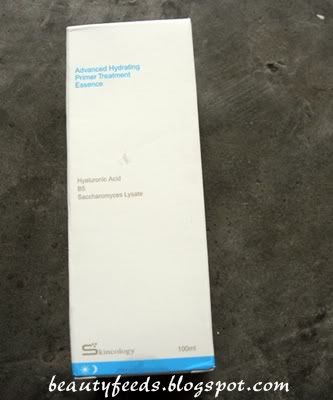 The description in Chinese.
(Click to enlarge)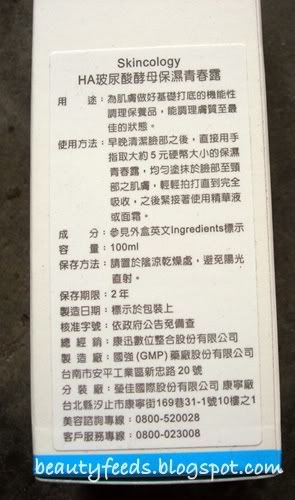 What's so interesting about this essence is this one below...
Noticed the highlighted part? Holy Water! LOL!
But the thing is, it doesn't really feels like water. It's more like a watery type of serum, a stickier consistency than a normal toner.
The packaging is made of glass.
And mind you, this is really really fragile. Coz the body is so smooth and feels slippery on my hands.
(or maybe blame it on my clumsiness :P )
Again, in English...
The dispenser.
Anyway, in case you are wondering...the essence "swatch" LOL!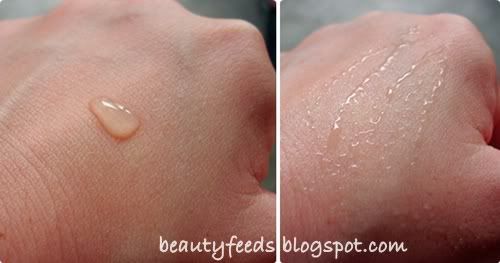 I normally use it with my hands and gently pat them on my face. I don't really use cotton pad that much because the essence is a lil' stickier (and would be wasteful if the cotton pad absorbs it more than my skin does).
It really hydrates my skin well, and sometimes I even skipped my serum and straight away slap on my moisturizer. So far these Niu Er Products suits me well (and might differ from each person), and I loved them! :D Would I buy them again? Probably yes!
On and all, in case you want to know..My skin routine is normally like this..
(1) Cleanser --> Toner (the essence above) --> Serum --> Moisturizer.
(2) Cleanser --> Toner --> Moisturizer.
(3) Cleanser --> Scrub --> Mask --> Toner --> Serum --> Moisturizer.
Last but not least... the "jewels" behind the essence..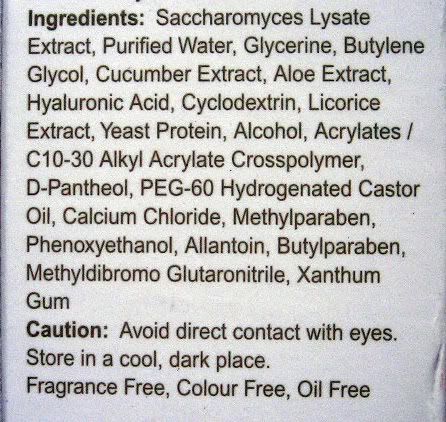 PS: I got this from www.fiobeauty.com ; You can actually pre-order from her as well in case you are interested (you'll need to register as a member in her e-shop and leave her a message there).