I'd say you may have been pretty wondered what this is all about from Enkore Makeup..
I was too, when I saw his vids the other day talking about duo fiber brushes (aka stippling brushes) which I'm
always crazy
about..
I got this mail last Wednesday and I wasn't really expecting it (okay, maybe I've a short-term memory loss ).
I placed my orders on May-15 and it reaches me May-27 (so it takes about 1.5 weeks, which was quite quick despite there's a US Memorial Day on 25-May).
What got me into this is that the way these brushes was packaged.
Did you see they put into two different type of envelopes?
*Spotted Enkore's Siggy!*
And they also nicely packed them with a deco paper too!
Neat!
Look at these brushes...
They are double wrapped and can you see a small Enkore Makeup's Logo too?
BTW, it is so heartache when I saw one of the brushes (bottom one) were squished. Argh! -_-
But seriously, I haven't really used them so I'll just give you a rough idea on how they look like..
I bought the Memorial Special Pack of 4 fiber optics brushes for $49.95, you can check it out
HERE
as well..
First up...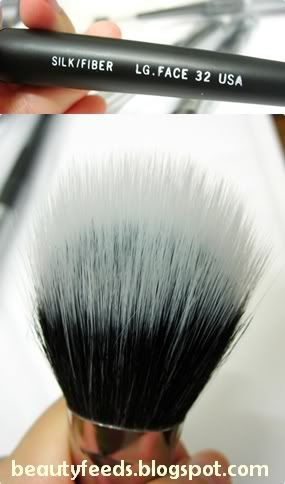 Quoted from the site:




If you love using a "Skunk" brush or Stippling brush for foundations, you will love this Duo-Fiber brush ideal for Mineralized Skin Finisher powders. You can achieve a flawless, soft focus finish, airbrushed look using your powder foundation with this amazing hybrid brush.
Another thing about these brushes is that it comes with a "brush-guard-like" cover for these. So we don't really have to buy additional brush guards to protect them.
Can you feel the softness already?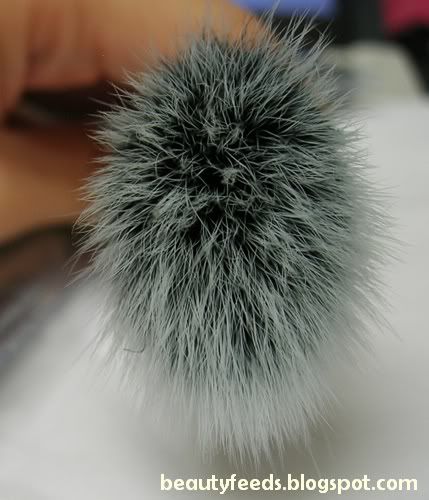 Second up:
The squish one. :(
Quoted from the site:




Are you blushing? Don't be shy, try this amazing blush brush made with soft duo-fibers. If you like using mineralized blushes, you will love the filbert shaped brush. Ideal for cream blushes as well.
All of them specifically has the same shape, by the way.
Third up....
Quoted from the site:




Want to achieve an airbrushed look to your eyeshadow? Then you have to try this brush. Duo-fibers, ideal for mineral eyeshadows, pigments, and creme shadows. Try it, you will love it!



Lastly...Duo fiber pointed blender
This looks a little like my blending brush SS224 when I first saw them.
Quoted from the site:




Blend...Blend...Blend! Do it with ease with this duo-fiber brush. If you like the way stippling brushes blend foundation, how about something similar that will do the same to your eyeshadows? Ideal for contouring nose as well. A Must Try.
And the size is really small!
Of coz, when these brushes are part of the family, I just can't wait to introduce their "cousins" to them! Don't they have the same "hairstyle"? :P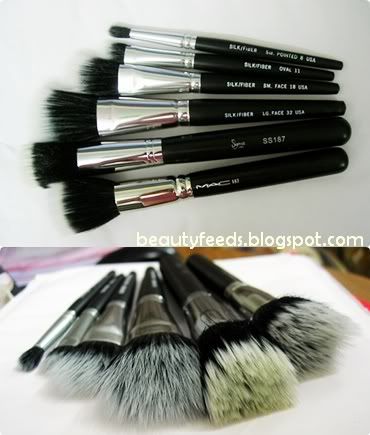 Comparison between Sigma 187 and MAC 187
(for fun!)
Left to Right: EnKore Makeup's Duo Fiber Skin Finisher, SS187, MAC187
Overall...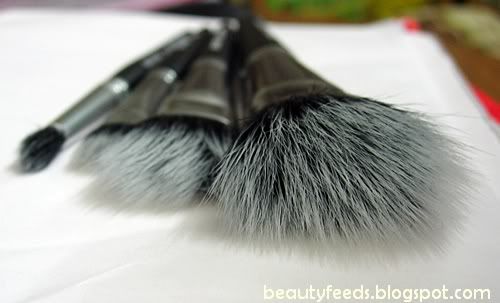 They really look like a combination of MAC190 and MAC187 brush. :P Also, these brushes are really soft! Even out of what I've expecting them to be! And like what Koren has mentioned in his vids, they smell pretty good (but not vanilla scent though!). I'll do a more detailed review when I play with them around (hopefully soon)! ;)
In case you are wondering, this is his vid about them.
PS: I buy them because I love stippling brushes (and I'm not his "FAN") -_-"