Because of this...




I went on and got one for myself.
The Original Mint Julep Masque

Helps dry up acne pimples

Rinses away blackheads

Helps shrink large pores

The original natural home treatment, developed by a dermatologist, that will actually dry up acne pimples, rinse away blackheads and even help shrink enlarged pores.

Simply apply Mint Julep Masque to your face and neck. Within minutes it firms and hardens, as its suction action draws out waste matter from the pores. Minutes later, rinse the masque away with warm water and a washcloth. After the masque is removed your skin will feel clean...refreshed and smooth.

Even for people who are fortunately free of skin problems, Mint Julep Masque is a refreshing facial treatment that relaxes tired muscles and eases tension lines on the face and neck.
The above three points really tempt me to try them out. And the results? Not too bad!
The ingredients of this so-call-miracle mask:
If you see the above, sulfur actually helps to dry the skin out and also does help drying up pimples.
The mask color - seaweed green...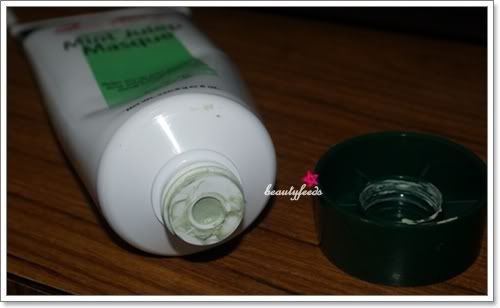 And on me... LOL..(excuseeeeeeee the pores!)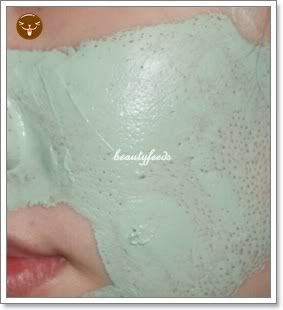 Price:$3.99/8oz (From
Drugstore
)
I got it for RM31
Overall review:
I don't recommend this for dry-normal skin people . I personally feel it is a tad drying especially around the cheeks area. I don't quite like the strong minty feel on it as well, it feels a bit like you are having "frost bite" (stinging feeling) on your face.
However, my skin does feel smooth after using it. I can also see a little effect of pores tightening on my face. And for this huge tube of mask with this price, it certainly can last for quite some time.
Overall rating:

(the strong mint feel does put me off a lil')