Nowadays, you can get almost anything from the net. So convenient but bad for the pocket.
Which leads to:-
* Spending more money
* Buying on impulse or so called "Needed list"
* Breaking the bank
* Donating money for the love of beauty
* Ignore old stash
* and Buying more spaces for the newcomers
Ok. Obviously I'm one of them who can't resist internet shopping.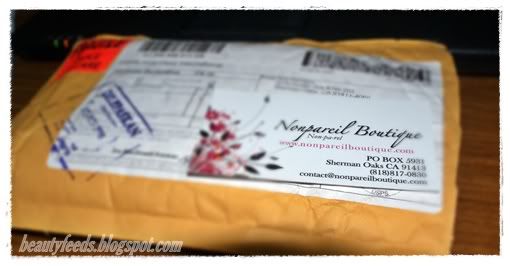 I got NYX stuffs!! Woo Hoo!
Nonpareilboutique ships Internationally and all you have to pay is $9.99 for this shipping! Flat rate shipping which does not provide any tracking details.
Here's what I got.
NYX Chrome Eyeshadows. $3.85 Each.
From Left: Hardcore
, Beanie, Antique, Geisha
There are quite a number of them but I only picked four out of it. Just to test and see if the colors are nice just like Enkore and the other makeup addicts suggested.
They are loose type of eyeshadow and the color payoff is Okay. And I don't think they are as good as MAC's pigments though. Up close of it: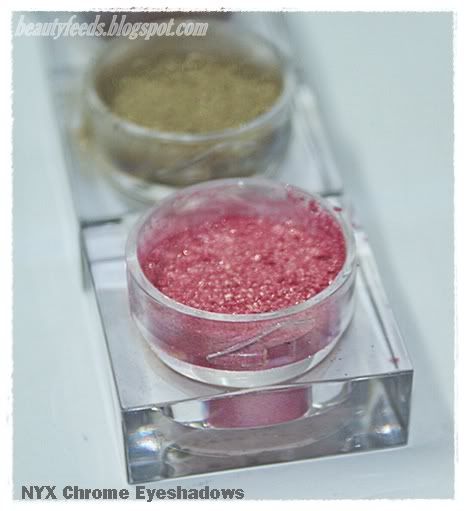 Pretty? Looks chunky but it is not that chunky in real life.
I did a swatch on it, with and without the jumbo eyepencil base.
Without Flash
With Flash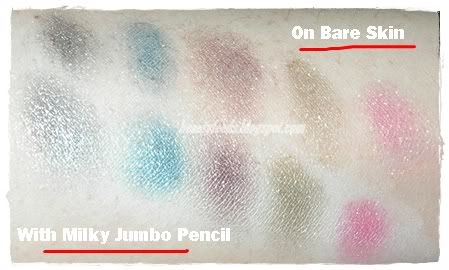 If you are wondering what jumbo pencil I'm referring to, this is the one. Milk jumbo eyeshadow pencil sounds really creamy . And in real life, It
IS
REAL CREAMY!!
$2.99/each, but I don't see them on the website anymore. Hmm...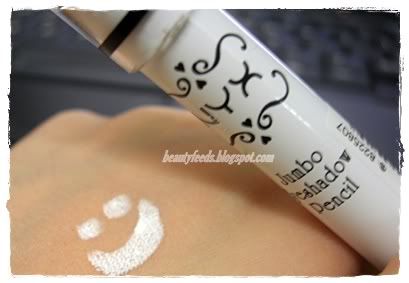 Super Creamy, can!
Swatch!
Look at how it dissolved into the skin,and the Antique chrome shadow on the right is applied without any base.
Here's how it looks like after I 'marry' them together.
Any difference? It doesn't look that shimmery anymore but the color sure darkens a little there.
Anyway, I prefer NYX Ultra Mania Pearl Pigments more though. This color is called Charcoal.
$1.25/Each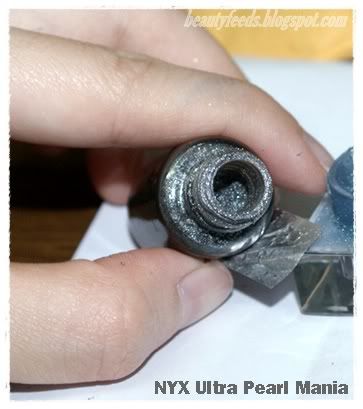 And the swatch: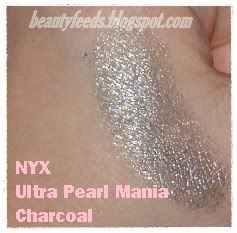 Chio la the color!
I apply them wet. Charcoal + water.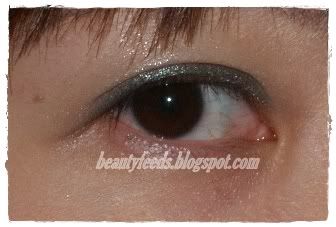 The pigments aren't as fine as MAC / any other mineral pigments, but for such as low price, no complain from me!
Next up, the lippie, Thalia. Round lipstick range. $1.90/Each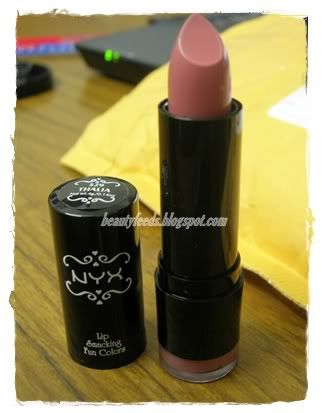 Color is sweety-red kind of color. Creamy as well, but it has a little plasticky smell.
Overall I feel that NYX's is quite an affordable brand line of cosmetics. Quality wise, not bad. However, the website doesn't provide much swatches though. So you may need to spend some time off looking around for reviews, such as youtubes / Makeup Alley.
Here's the website where I bought them:
Nonpareilboutique.com
That's all for now! Ciaoz.