hahaha. I want to be the first one to greet this time! =) Oklah, just teasing anyway. lol.
I went for a second visit to Nail Hansen actually. And this time they did my nail color in gold color.. actually this was done on Christmas Eve in 2009, but then I thought it matches the CNY mood as well. =)
I did my Pedi too! Coz you know lah, their price is much more affordable if you did them both at the same time.
**Warning:Please do not consume food at this point of time. Ugly feet ahead xD **
.
.
.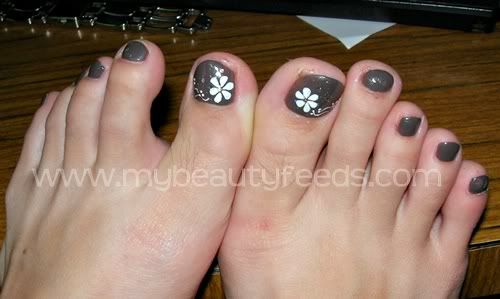 Up close: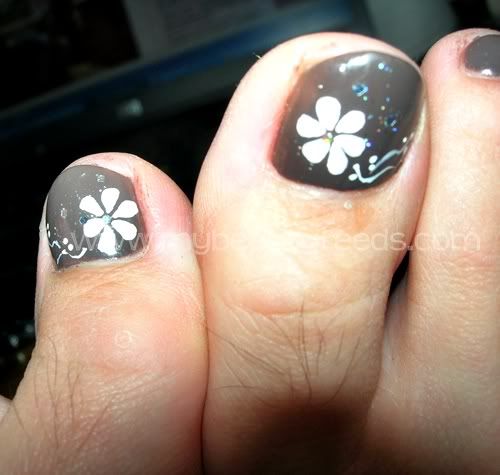 In dark grey color actually.. but not sure why it became black when I tried to captured flower design...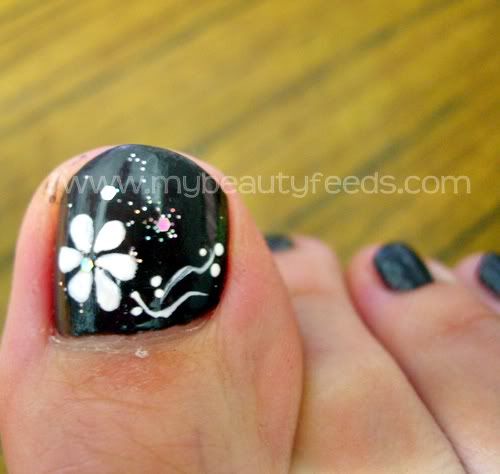 I did both Medicure + Pedicure for RM80. At Penang Queensbay's Nail Hansen (beside F.O.S).
Here's why I did it:
I'm pretty bad at "maintaining" my nails

. All these years, the only thing I did was only cutting and trimming my nails with a normal cheapo nail cutter

(about RM1 at any supermarket)

. And also because of my

"danceyfeet"

(via wearing tight jazz & sport shoes)

, my toe nails (especially my big toe) became so rough until I can feel the "wrinkles" and "pathways" on the surface of the nail. After I had my first nail treatment, it became so smooth that the previous "wrinkles" are all gone. This is really true!!! =


To eliminate ingrown nails and fungus.

I know it's hard to "screw away" those fungus, but at least the nail experts can tell us how healthy our nails were. Also, I don't know how to file/cut my cuticles properly as well. I know some of these can be learn, but it's the "patience" that wears off easily on me. lol.

I want pretty nail color so I can show off, especially when wearing flip flops and open-toe shoes.

xD Again, this skill can be learn like some beauty bloggers out there.. but yours truly doesn't have a steady hand, and keep drawing "out of line". Or in another word - lazy. :P
I'm not saying I'm rich or trying showing off here, but sometimes we do pamper ourselves with our own likes. Talk about enjoyment and own "beauty time". :D
If only I have the determination to do my own nails, then I can sure say bye bye to the Nail Salons and save a lot of $$ here. =)