It's time to show some love, people!
This is how I show my love,
to my skin
, with Cellnique. :D
*I know a lot of beauty bloggers have raved about them before, so.. please don't fall asleep k? xD*
The product pic from Cellnique's webbie:
The product I got from the box.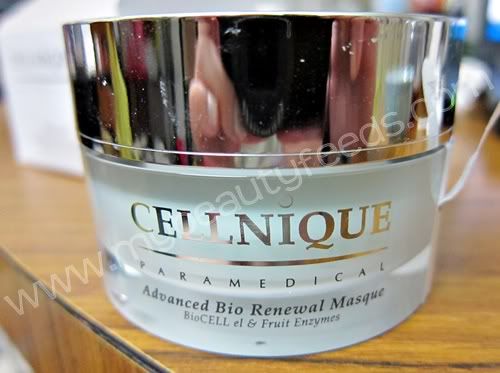 Same pic as claimed from the Cellnique's website! :)
I believed all product are sealed with this kind of
"quality-control"
sticker too!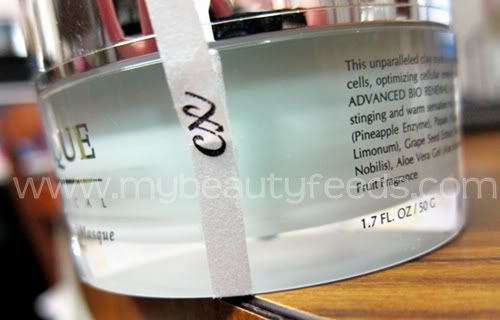 The back of the jar.
*spot my peace sign? xD*
Double protection lid!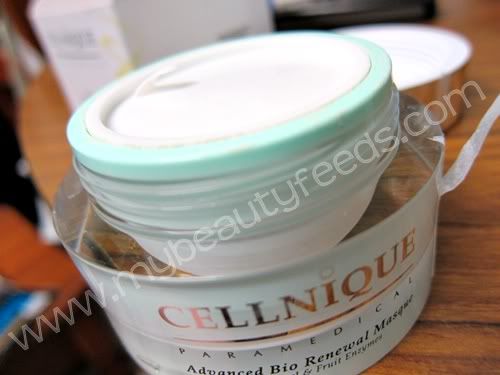 Here's Cellnique's
pineapple-flavoured
Advanced Bio Renewal Masque.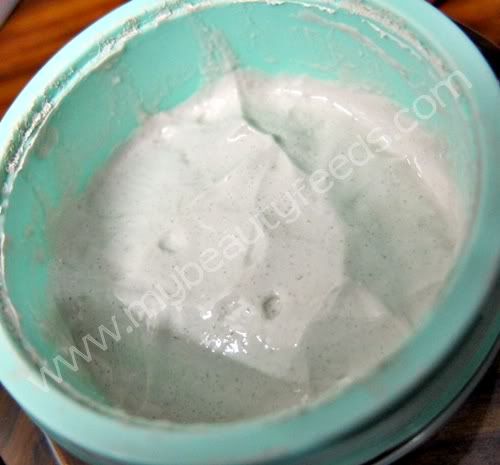 Sadly, the packaging looks huge from the outside, but the product is less from the inside. Or should
I conclude that good stuff doesn't come in bulk
? :/
Some info that might be useful to you:
Instructions: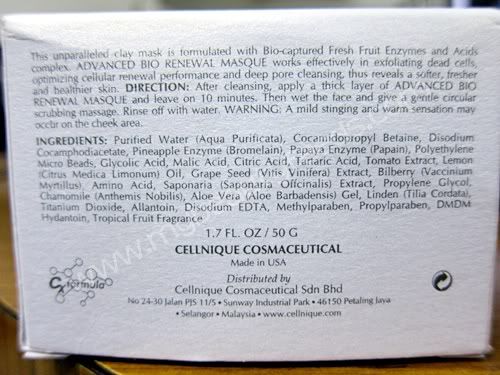 And the most important info:-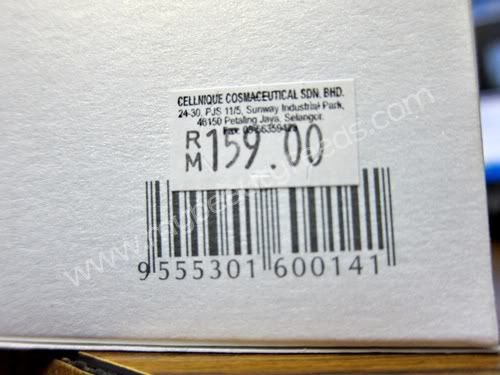 Below are some information that I can get from
Cellnique's Website
.
It says:-
This unparalleled clay masque is formulated with bio-captured fresh fruit enzymes and acid complexes. Advanced Bio Renewal Masque effectively exfoliates dead skin cells, optimizing cellular renewal performance and deep pore cleansing, thus revealing a softer, fresher, and healthier skin.
The best of it is that it suits all skin types!
Yay!
And cure:-
• Dull • Uneven skin tone • Congestion • Pigmentation • Wrinkles • Discoloration • Open pores • Enlarged pores • Scars / Marks
Some yummy things that makes it more interesting! :D
| | |
| --- | --- |
| Glycolic Acid (AHA) + Beta Hydroxy Acid (BHA) | Glycolic acid, derived from sugar cane, is the most active and beneficial of the AHAs. When applied to the skin, glycolic acid penetrates deeper, below the superficial layers of skin, and breaks up the 'glue' that holds dead skin cells. When using glycolic acid to counter acne, it is often combined with salicylic acid (BHA). While glycolic acid breaks up dead skin cells, salicylic acid removes these dead skin cells remove from the surface of the skin, opening pores and leaving skin feeling smooth and revitalized. |
| Bromelain (Pineapple Enzyme) | An enzyme derived from the pineapple plant, bromelain helps to digest keratin protein and promotes effective exfoliation. Removing dead skin cells results in smoother, brighter skin. |
| Marine Protein | A natural formulation of essential skin nutrients, marine protein helps retain moisture, elasticity and firmness of the skin, giving it a younger and radiant appearance. |
| Lactic Acid | Derived from milk, lactic acid is well-known for its skin hydrating properties as well as being a gentle AHA exfoliant, helping to re-texture the skin surface and stimulate cell renewal. |
| Malic Acid | An AHA fruit acid, derived from apples, to rejuvenate and improve skin condition by softening, increasing cell turnover and promoting circulation. |
The product: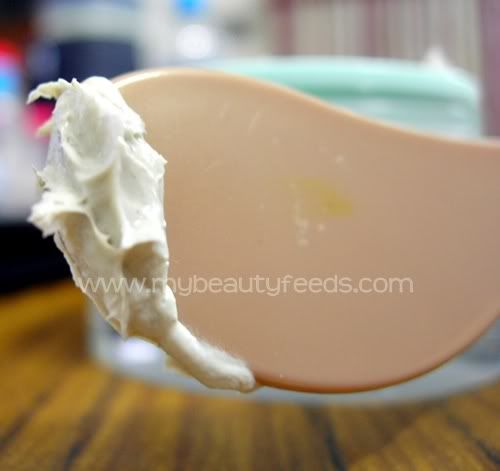 Price:
$55.00 @
Cellnique.com
or RM159 @ any
Cellnique Authorized Dealers
My thoughts:
Well, I've actually tested it on 3 different skin (I do not meant I have 3 diff skins, lol!). My Boy, A Friend (TQVM :) ) and myself. I'll let the pictures do the talking first.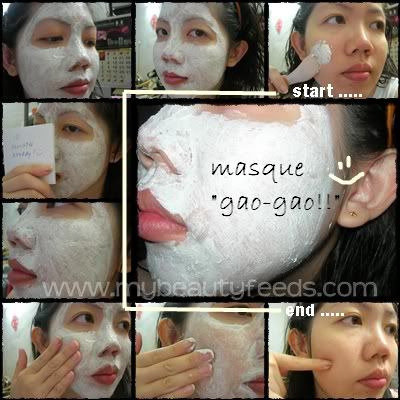 This was actually my first time using it! See how thick I layered them onto my skin!! After I saw Jenn's review, I knew that I was using abit too much.. hahaha!

My second time, lesser than before :P



Of coz by doing the masque, it's time for some crazy cam-whore sessions. Ho Ho!



Okay, back to my thoughts now. I actually don't categorized this as clay masque, coz it doesn't feel like it. It doesn't "hardened" or "dry up" after 10 mins (as instructed). And it also has little beads (or I called it scrub) in it. I supposed it's for the exfoliant process later on.



After 10 minutes, it is suggested to wet fingertips and gently massage for another 10 – 15 minutes using upwards and outwards circular movements. Well, I did massage but not for 10-15 minutes though! I was too numb to do it for so long, so I did it for about 3-5 minutes instead. :D



And the results?


This is my chin area btw, where I got obvious and stubborn bumps! See how much it clears off? Pic 2&3 is where I rinsed off the masque with water.

Here's how it works on my boy's face. (I actually dragged him to take this pic! So hard to get him to go on camera.. hahaha)


So, does it work for me?
Yes it does. It clears all those "bumpy roads" and whiteheads on the skin, very effectively! My skin feels all smooth and silky, as if there's a layer of "pearl powder" on top of my skin. :D
Cons?
The smell. Hahaha. It doesn't really bothers me, but the first time I had it on my skin, I feel a little somewhat "suffocated" with the pineapple smell! -_-" After a while, the smell faded abit though (or maybe my nose has already adapted to the smell of it :P).
However, my friend and my boy does feel the "sting" and the warm sensation when it is applied. But it doesn't cause any redness, so I guess it is the enzyme that is "busy working". So I guess this is the only concern that they have for the masque.

Overall, we loved the product and how smooth it makes the skin. Because this clears off my whiteheads and bumps, I can save on my face scrub coz' this can last for a few of days "silkyness". :D Downside of it is the price... I'm not sure if it can last for another 5 times though... :)

Thumbs up for Cellnique with their awesome product!

PS: This product can be purchased online too!
Cellnique's Website
Cellnique's Facebook
Other beauty bloggers that raved about them:
Jenn @ lipglosseater
Xin @ Prettybeautiful
Parisb @ mywomenstuff
Beetrice @ Beetrice reviews