As some of you may know, I don't really stick to one face product most of the time. One of the product that I alternate alot is my sunscreen/sunblock. This time it's from Shills.
Some of you may be familiar with Shills product as they do come out with some other stuff like BB creams and skincare products.
Here's what I can find from Google. I don't think they have a website though (correct me if I'm wrong).
It seems like this sunscreen can be used on the body as well.
From the box: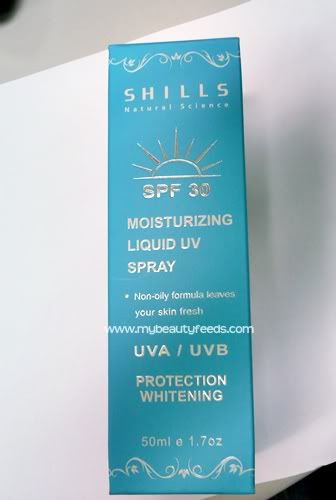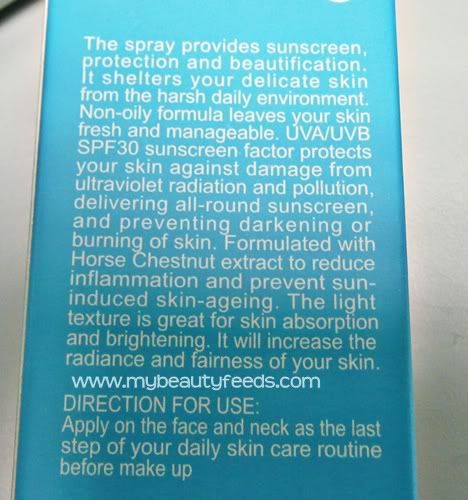 The actual product: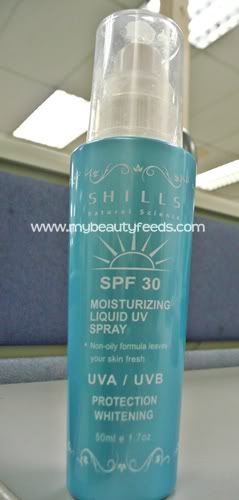 This product "life span" after opened is 6 months.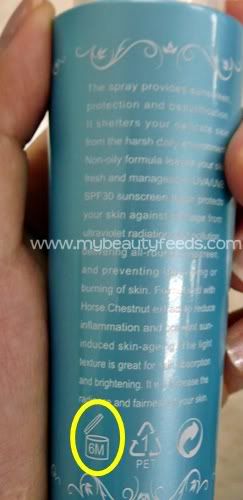 The packaging is quite stylish and I do like how this company packaged them.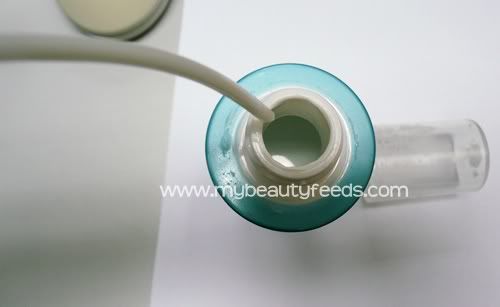 *see the liquid??*
Up close: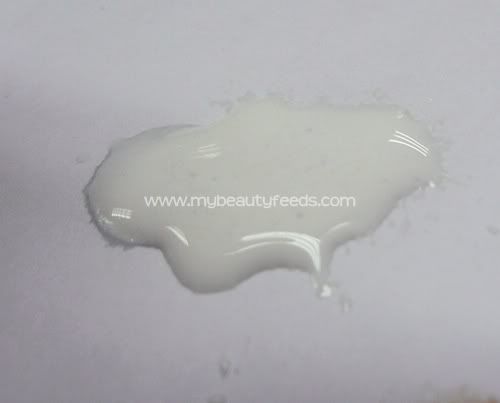 On hand: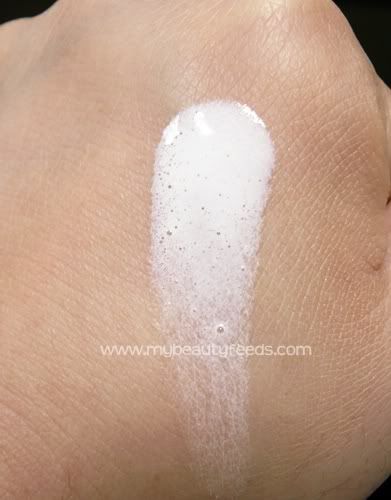 The Product:
SHILLS潤膚防曬噴霧SPF30 ...... 50ML

Price :
RM33
<--- I got it from
fiobeauty
Description from payeasy website. FYI, this sunscreen was also promoted from 女人我最大 programme previously:
# SPF30防曬因子x維他命E 全面阻隔紫外線。
# 隨時隨地補噴,斑點、老化Out。
# 具隔離、防護、防曬、白皙、潤色的功能。無油配方清爽無負擔。
# 全面截斷光源UVA/UVB,SPF30防曬因子能抵禦紙外線及隔離髒污,維持全天候防曬隔離機制。
# 防止肌膚晒黑,泛紅、防水、防汗,七葉樹延緩光老化對肌膚的影響。
# 可修飾調整黯沉,提高肌膚透明感給你白皙明亮光肌膚,隨身瓶設計不怕手弄髒。
# 隨時100%防護、瞬時保護嬌嫩臉龐及身體肌膚。啟動美好一天防曬保濕。
# 主成份:七葉樹萃取精華、甘草植物精華、鋅鹽、保濕劑、防曬劑、離子箝合劑。
# 使用方法:取適量塗於臉部及頸部肌膚。
Got the translation from a random
ebay seller "rainbowhub"
(I got this from the google search engine):
# Non-oily formula leaves skin fresh and manageable.
# Provides sunscreen protection and beautification.
# Shelters delicate skin from harsh daily environment.
# UVA/UVB SPF 30 sunscreen protects skin against damage from ultraviolet radiation.
# Prevent darkening or burning of skin.
# Formulated with horse chestnut extract to reduce inflammation and skin-aging.
# Light texture great for skin absorption and brightening.
# Helps to increase radiance and fairness of skin.
# Usage: Apply on face and neck as the last step of daily skin care routine before makeup.
# Recommended by Nu Ren Wo Zui Da 女人我最大.
My thoughts about it:



** My likes....



Dewy-finished. This product does not leaves a matte & dry finish unlike my Rohto sunblock.
Affordable. Price is comparable/ on par to other drugstore brands of sunblock.
** My DISlikes....

Spray bottle goes crazy sometimes... I have to clean it regularly, if not the liquid wouldn't want to come out from the bottle. :X





When I first ordered them, I like it because it says "spray". So, I was thinking it's going to be not those sticky type and should be lightweight/watery product that can goes on easily on the skin. It was lightweight/watery alright but the blending/spreading of this sunscreen makes me go crazy!!




*see the bracket part*



Overall I do not like nor fancy this.
I really look forward to use this when this sunscreen reaches me. But spreading this sunscreen on my face is so tough!! I get streaks all over, and because the texture of this product is so watery, I couldn't managed it properly either. *sigh*
Anyway, I really fancy the way Shills package this product, the color so elegant and the bottle looks so nice! Maybe I should try use it on my body instead of my face so that I don't waste this product....*gahh!!*
If you do use this and didn't have a problem like mine, please do let me know.
xiexienidulu
(TQ to U 1st)
The ingredients: