Recently I read about a new make-up line which is similar to MAC Cosmetics called Stage.
I wasn't convinced at all until I saw Stage Cosmetics in Queensbay during my lunch out today.
Stage and MAC stores doesn't look alike, actually. Almost the whole Stage store are covered in Black whereas MAC's shop interior was painted in pearl white (or yellowish white).
However, their makeup line was
truely huge
decent.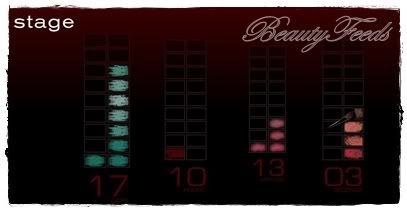 *Source: Stage Cosmetics

I couldn't believe my eyes at first. They had a normal range (or maybe because they are still very new) of eyeshadows, eyeliners and lipsticks. All of their products are placed in line neatly but the store was spacey indeed. I'll try to upload the pictures when I got them.

I didn't get to test their products this time as I didn't bring my camera with me.

Anyway, Stage has their own website where they will be launching them online in another 17 days and 10 hours.

Stage-Cosmetics are brought in by Alliance Cosmetics Group who is the sole distributor of Revlon and other renowned global cosmetics brands such as Silkygirl cosmetics and Elancyl products.

Sounds interesting, right? Here are some juicy details if you havent met them yet:

Stage is located at Lot 4.01.03, Level 4


Pavilion KL Shopping Mall

.

or



Queensbay Mall

(Located at Ground Floor, beside Loccitane / Key Ng boutique)

Do Visit www.stage-cosmetics.com for more details.